WWII Veteran Turns 100 And Asks For 100 Cards – The Total Haul Breaks His Mailbox
World War II veteran James South just turned 100 on October 7.
And to celebrate, he decided to ask the world for 100 birthday cards. Hey, that's not too much to ask, right?
After all, this man is one of the few surviving heroes of that war, and he deserves an outpouring of celebration!
…but James could never have predicted the response he got.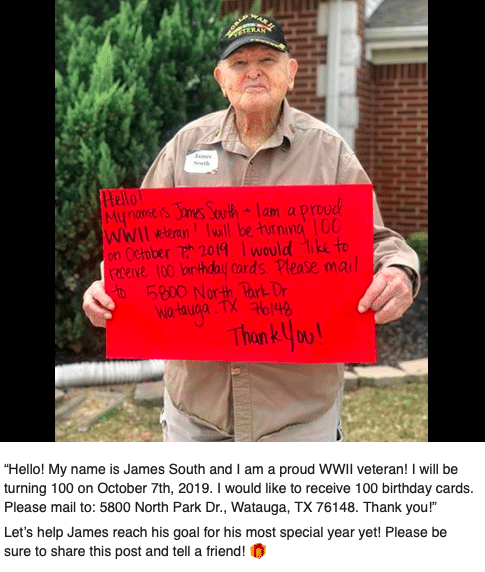 After putting a photo of himself on Facebook asking for the 100 cards, people started to respond.
And they just KEPT responding.
More than 60,000 birthday cards from all over the world have arrived for one special World War II veteran in North Texas who is turning a milestone birthday this week.
Wow!
James ended up with more than 600 times what he asked for!
He's been getting cards from as far away as India and Australia, and the just keep coming.
The Facebook post he put up also went viral, ultimately raking in over 500 comments and 3,800 shares.
And of course, there are plenty of Happy Birthday wishes in there, too!
This is exactly how people should react when heroes ask for a little favor.
After everything this man did for us, it's only right that we wish him a simple Happy Birthday, don't you think?
Here's hoping the cards just keep rolling in … maybe James will break the 100K mark!
SHARE to help this WWII hero earn even more birthday cards!
Source: NBCDFW