Donald Finally Introduces America To The Hero Hiding Inside The Easter Bunny Costume
This past Sunday, children gathered on the White House lawn to participate in traditional Easter festivities.
This particular tradition stretches back 139 years, and despite the liberal push to ban anything Christian from our country, continues today.
But in addition to kids having a blast finding brightly colored eggs and First Lady Melania Trump's stunning outfit, there was one mystery:
Who was in the big Easter Bunny costume?
Someone stepped into a very large bunny outfit, stood next to the President, and gave the kiddies a little thrill. But really, who was it?
Well, there was plenty of speculation, of course. Some thought it might be former Trump spokesman Sean Spicer. After all, he's done it before.
Sean Spicer's humble beginnings as the White House Easter Bunny pic.twitter.com/sczyX8QJVq

— jordan (@JordanUhl) March 3, 2017
There were even a few who believed it could be Fox News host Sean Hannity, who has been a friend to conservatives.
Here were a few other ideas:
please let it be sessions

— justin jacoby smith (@hoosteen) April 2, 2018
The Mooch will do anything to get back there, won't he?

— Jon Maas (@jondmaas) April 2, 2018
Bolton. The stache is a tell.

— J. Spider Hunter (@Spider_Hunter) April 2, 2018
But no, in point of fact, it wasn't who anyone expected…and the bunny's true identity says a great deal about Donald Trump's administration.
It was Commander Richard I. Lawlor of the U.S. Navy.
Lawlor is Trump's naval aide and he often reads citations for Medal of Honor and Medal of Freedom recipients, and presents the awards.
In other words, he's a hero who honors other heroes. 🙂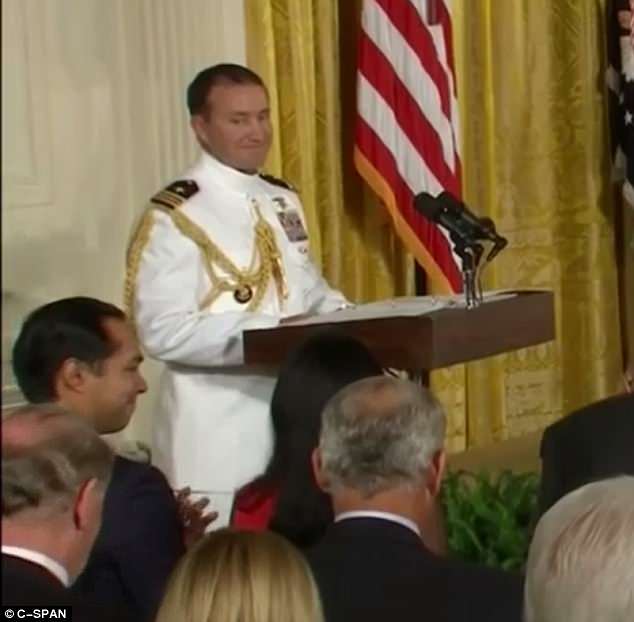 Yes, Trump's team has worked hard to rebuild a military that suffered greatly under Barack Obama, and Trump's respect for the armed services is obvious.
So, who better to step into the Easter Bunny suit and stand next to Trump?
It was all fun and games on Easter Sunday but that six-foot-tall bunny says everything you need to know about the current administration.
It says– "We're pro-military and proud of it!" 😀
Source: Independent Journal Review