Whistleblower's 2020 Dem Connection Leaks – So President Trump Demands He Be "Questioned Properly"
He can't hide it now – and Trump is dropping his Presidential anvil!
The Democrats' impeachment push revolves around a supposed whistleblower's complaint.
But as we learn more about this mysterious person, it looks like he's not just a patriotic American trying to keep Trump honest.
It's been known from the start that he's considered a partisan. In fact, he's a registered Democrat. His lawyers (why does he even need lawyers?) worked for Hillary Clinton and Chuck Schumer.
You have to be blind not to see he was motivated by politics to go after the president.
Now, they've discovered something that completely blows the lid off his claims.
From Breitbart:
The intelligence community inspector general testified Friday to congressional investigators that the so-called "whistleblower" who mischaracterized President Donald Trump's call with the leader of Ukraine had a previous "professional relationship" with a 2020 Democrat candidate, according to the Washington Examiner.
That's right. According to the inspector general, this whistleblower is not only a Democrat, but he worked for one of Trump's 2020 rivals.
Which means his "complaint" was probably orchestrated to affect the 2020 Election. He wanted to throw mud at Trump so his candidate would have an edge.
The report says he had a "professional relationship" with the candidate. Does that mean he was paid to make that complaint?
Trump is none too happy about this development, and he wants action now.
From Twitter: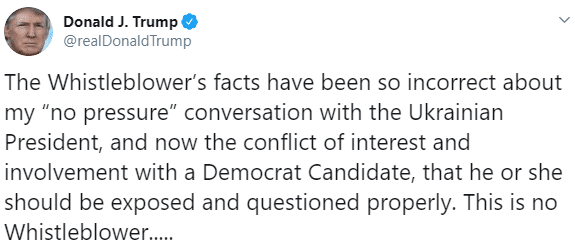 "The Whistleblower's facts have been so incorrect about my "no pressure" conversation with the Ukrainian President, and now the conflict of interest and involvement with a Democrat Candidate, that he or she should be exposed and questioned properly. This is no Whistleblower….."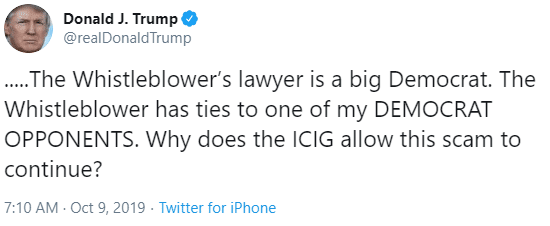 "The Whistleblower's lawyer is a big Democrat. The Whistleblower has ties to one of my DEMOCRAT OPPONENTS. Why does the ICIG allow this scam to continue?"
President Trump is pretty frustrated that this impeachment push is still going on after what we've learned about the whistleblower.
It looks like this political operative made the complaint simply to go after the president and give Democrats a reason to push impeachment.
The call doesn't have hard evidence that Trump did anything unlawful. And now it looks like the whistleblower was working with a 2020 candidate all along.
And we would love to know who. That's why he (or she) needs to be questioned. By Republicans, not just Democrats.
This looks like another pathetic scheme by House Democrats to prevent Trump from winning 2020. They know he's a shoo-in, thanks to his hard work and success.
None of their candidates can match that, so they are playing dirty.
But it's time we as Americans, along with Trump, demand an end to this sham. The ICIG must end this impeachment inquiry immediately.
SHARE if you want Trump to expose this whistleblower!