Weeks After Pelosi Tries To Impeach Trump – Donald's Approval Rating Takes A Sharp Turn Through The Roof
Pelosi thought this would finally take Donald down – wow!
Adam Schiff and Nancy Pelosi pulled out all the stops to impeach President Trump.
Over a single phone call, they called for an inquiry with the goal of getting Trump ousted.
But the fact remains there is very only a slim chance they can remove him from office. Especially since there is little to no evidence suggesting he broke any laws.
We know that wasn't their real goal, of course. The Democrats wanted to stir up as much drama against Trump going into 2020.
They were hoping this impeachment inquiry would generate so much bad press for Trump, he would lose the election.
So I guess they're not happy about this latest approval poll.
From Rasmussen Reports: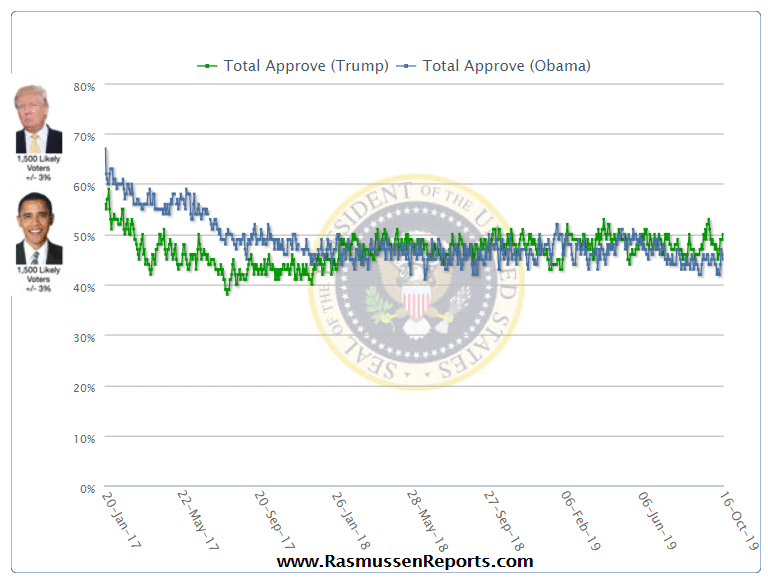 The Rasmussen Reports daily Presidential Tracking Poll for Wednesday shows that 50% of Likely U.S. Voters approve of President Trump's job performance. Forty-nine percent (49%) disapprove.
Wow. Ever since Pelosi backed the left's impeachment push, Donald Trump's numbers keep going up.
Sure, approval numbers fluctuate from day-to-day and Donald's took a momentary dip. But now Trump's are consistently on the rise. Even with the constant stream of media news, even with impeachment talk, Americans approve of him.
Compare that with Obama's numbers around this time at his presidency. Obama was five points lower than Trump.
Think about that. The media was Obama's biggest cheerleader. They gushed about the man like he was the Messiah.
Trump? They treat him like he's the enemy. Major outlets spin stories and rumor to hurt him in the polls.
Yet Trump is still beating Obama in approval.
What does that tell you?
The Democrats' petty scheme to take him down is not working. In fact, it seems to be helping him win the approval of Americans.
So… I guess keep it up, Democrats. You're helping him win re-election!
SHARE if you approve of President Trump too!
Source: Rasmussen Reports