Weeks After Joe Biden Takes Office – His Head To Head Approval With Donald Trump Shows He Is Still Behind
What's Happening:
The mainstream media is doing their best "damage control" for the Biden administration. And it hasn't even been a month!
The man already tanked thousands of jobs, gone back on several campaign promises, and stubbornly refuses to work with Congress. And he's already botching his COVID response.
But the media is trying to run interference, to keep Americans from notice. Spoilers! Americans are noticing. And the approval numbers ain't great.
From Rasmussen Reports:
The Rasmussen Reports daily Presidential Tracking Poll, Sponsored by SLANTED from Sharyl Attkisson, for Monday shows that 50% of Likely U.S. Voters approve of President Biden's job performance. Forty-seven percent (47%) disapprove.

The latest figures include 34% who Strongly Approve of the job Biden is doing and 39% who Strongly Disapprove. This gives him a Presidential Approval Index rating of -5.
Here's a visual comparison of Trump and Biden's first days in office. Look who comes out on top: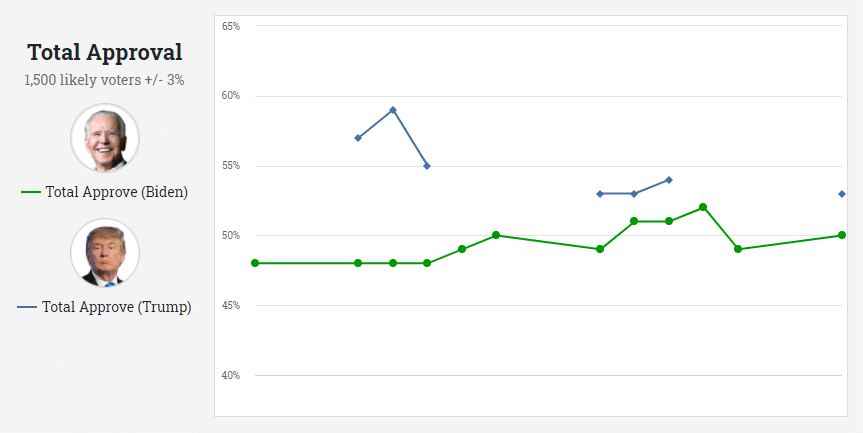 Despite glowing media coverage, which ignores his early failures, Joe Biden's approval is lagging behind Donald Trump's.
President Trump enjoyed approval around 50%—but that was with constant negative news coverage from the mainstream media.
Some estimated that 93% of the media's coverage of Trump was negative. Those are staggering numbers, too high for most leaders to overcome.
Despite that, Trump often had 50% or higher approval among voters. Which suggested that his support would have been through the roof, had the media even a little bit honest.
Biden, meanwhile, has an approval index of -5, meaning that even with biased coverage in his favor, Americans aren't happy.
Where would his numbers be, if the media was neutral? Goodness, where would they be if they were as negative about Joe as they were with Trump?
Would Biden be able to break 30%?
Since entering office, Biden killed the Keystone Pipeline, shut down the border wall, botched the vaccination rollout, reneged on $2,000 checks, and even backed off the $15 minimum wage promise.
Even Democrats are not thrilled with how he is cutting union jobs to push the green agenda.
Those are major failures in just the first few weeks. If the media covered these the same way they covered Trump's leadership—Biden would be so underwater, he'd need a submarine.
Even with their biased coverage, Biden is struggling to be at 50%. Imagine another month from now.
How would you rate Biden versus Trump?
Key Takeaways:
Biden's daily approval is at 50% with an index of -5.
That's with constantly positive MSM coverage that is ignoring his failures.
Trump technically beat him in Rasmussen's head to head of first weeks in office.
Source: Rasmussen Reports