Weeks Before The 2020 Election – President Trump's Approval Rating Takes A Major Turn Upwards
What's Happening:
If you bother to believe the media's polls, you'd think Biden has it in the bag.
Despite shockingly low enthusiasm from his own base, the media claims Biden has a lead Trump cannot catch.
But the reality, as we've seen for years, is often much different than what the MSM says.
Trump's latest poll from Rasmussen is more than an eye-opener: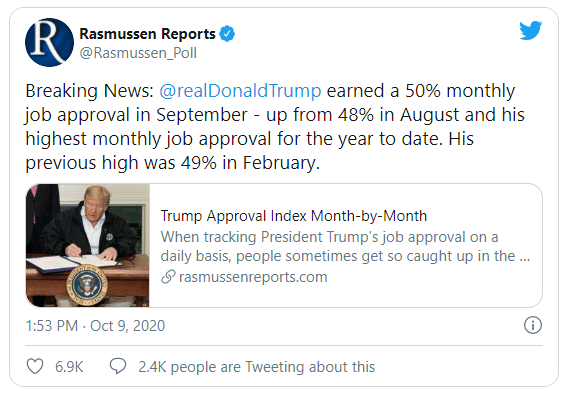 Breaking News: @realDonaldTrump earned a 50% monthly job approval in September – up from 48% in August and his highest monthly job approval for the year to date. His previous high was 49% in February.
Rasmussen gives Trump his highest monthly approval ever at 50%. That's up from August when it was 48%.
That's not all. His daily approval keeps getting better and better:
The Rasmussen Reports daily Presidential Tracking Poll for Monday… shows that 49% of Likely U.S. Voters approve of President Trump's job performance.
Rasmussen's approval polls have shown Trump's support growing among likely voters.
These aren't election polls, but they are a strong indicator of how Americans feel about the president. And by following trends, we can see if a candidate is improving or declining.
Trump's monthly and daily approval numbers either matched Obama's at the same time or have even surpassed them. Obama went on to win re-election easily.
That's significant considering the overwhelmingly negative coverage Trump receives from most mainstream outlets. Obama, on the other hand, was handled with kid gloves.
Another important factor to note is that Trump's approval is reaching record highs after one of the worst years America has seen in years.
The country battled lockdowns, COVID, riots, and all kinds of high jobs against the president. You'd think his approval would be hovering around 20-30% at best.
Instead, he is seeing rising approval, even as the media accuses him of all kinds of stuff.
Add to that the surging support we're seeing from Americans around the country. It looks like Trump has the same level of enthusiasm from voters as he did in 2016—perhaps more so.
We're seeing parades and rallies for the president in deep blue states—something they said shouldn't be happening.
Meanwhile, Biden can't even get people to show up at a "big event" like the one he recently held in Arizona (even the local news made fun of him).
Do you really believe the MSM polls? Or are you going to vote for a 2020 red landslide?
Key Takeaways:
Rasmussen reveals Trump's monthly support is the highest recorded at 50%.
His daily approval continues to improve.
Overall voter enthusiasm is strongly on Trump's side.