Trump Stuffs His War Chest In Opening 24 Hours – He Just Quadrupled The Competition
Donald's first day just dwarfed his Democrat competitors.
President Trump wanted to kick off his re-election campaign with something big. But no one could have guessed it would be something this big.
Four years since his first big announcement, Trump packed out a stadium in Orlando to announce his re-election campaign.
He had that massive crowd roaring their support for four more years in the White House. And around America, supporters were opening their pocketbooks to make it a reality.
From Twitter: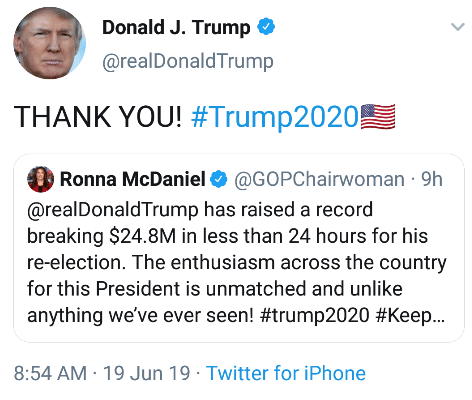 "@realDonaldTrump has raised a record breaking $24.8M in less than 24 hours for his re-election. The enthusiasm across the country for this President is unmatched and unlike anything we've ever seen! #trump2020 #KeepAmericaGreat"
According to GOP chairwoman, Ronna McDaniel, Trump broke the record books with $24.8 million dollars raised in a single day.
That's quite a war chest to start with, and to add to the $80 million he and the RNC have already raised.
How much did Joe Biden, the Democrat frontrunner, do in his first 24 hours? $6.4 million. That's almost quadruple.
But it gets even better. Sleepy Joe has raised $19.8 million since he started his race. Trump just beat that—in a day.
And considering Trump is getting support from regular Americans like you and me, that number is even more significant.
Most Americans can only chip at most $200. So, to hit that number in a day means lots of Americans were opening their wallets.
According to Fox News, that's way ahead of what liberal candidates have done.
From Fox News:
President Trump's campaign operation raised a whopping $24.8 million… a figure that blows past what any of the Democratic candidates raised in the entire first quarter.
We shouldn't be surprised. The only people really excited about "Uncle" Bernie or Sleepy Joe Biden are in the media.
Regular Americans are seeing Trump score one win after another. Citizens of all backgrounds are enjoying more opportunity, because of his policies.
Don't be surprised if you start hearing Democrats and the media accusing Trump of trying to buy his re-election.
This isn't about money – this is about enthusiastic support, and Trump is the only one out there with support like this. Did you see his crowds?
He's got a Train of Trump supporters ready to help him Keep America Great.
SHARE if you're going to help Trump win a 2020 landslide!