Florida Trump Supporters Turn Out In Droves – Hundreds Of Boats Line Up, And Up To 75,000 In MAGA Car Parade
The 2020 election is just weeks away and many enthusiastic citizens are showing their support for the candidates. Rallies are being held across the country for both Donald Trump and Joe Biden.
But sometimes, those citizens take it upon themselves to spread optimism for their chosen candidate. These typically come in the form of gatherings and parades.
For example, look what's happening in Florida:
Trump supporters are not only taking to the streets, but also to the waters. And they're turning out in big numbers in multiple cites, too, which could be a good sign for the Trump campaign.
After all, Florida is a crucial state for the election (29 elector votes up for grabs), and a victory there could tip the scales in favor of the winner.
First up is the big pro-Trump boat parade on the waters near Jacksonville; Robert Candler shared some photos of the successful event with Breitbart:
"Hundreds of boats took to the water in Jacksonville on Sunday afternoon doing a parade on both the north and south Bank of Jacksonville's Riverwalk," Candler said.
The event was dubbed "Cray Sea for Trump" and clearly, it brought plenty of supporters to the sea: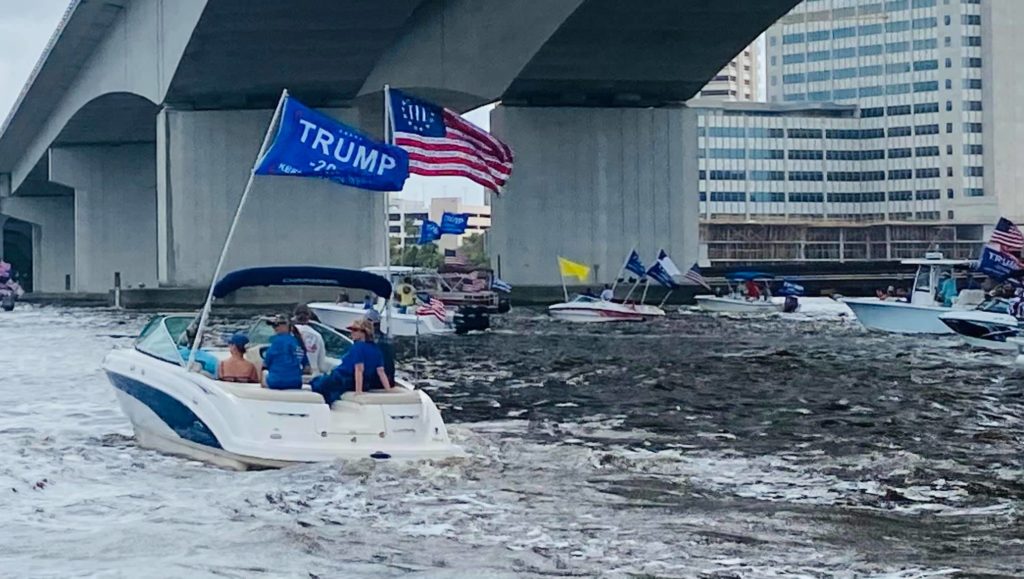 Then on Monday, there was a huge Trump parade in Miami, featuring thousands of cars.
The pictures quickly started to circulate online and one Twitter user said there was an estimated 75,000 cars all told:
In Miami. Cars were counted by helicopter.
It took 3 hours just to get onto the route. 55,000 counted at the meeting point, another 20,000 joining the line.

For you Biden voters, that's 75,000 vehicles caravaning for Donald J Trump in MIAMI FLORIDA!!
Red Wave! pic.twitter.com/0dq3xxHUJS

— Sandy 🇺🇸 🇳🇴 🇱🇺 (@SandyForLiberty) October 21, 2020
Furthermore, the parade didn't dissipate quickly. In fact, many of the participants were still showing their support 6 hours later.
User James Gagel said:
This Trump Caravan in Miami is still rolling by after 6 hours! Cubans and other Hispanics know that Socialism is the door to Communism. They roundly reject Biden's Socialst pact with the ultra Left! pic.twitter.com/blBxJCL9VK

— James Gagel (@JamesGagelUSA) October 18, 2020
Lastly, it's important to note the Hispanic vote in Florida, which is key for the President. Trump has often touted his popularity among that particular voting group, after all.
And though he can't claim the majority like him, it's close — a recent Florida poll showed that about 43 percent of Hispanics in the state back him. And the race with Biden is very close as well.
Here's an example of that support:
🚨📺WATCH THIS📺🚨

THOUSANDS of Hispanics gathered in Miami today for an anti-socialism caravan and concert in support of President @realDonaldTrump.

Latino enthusiasm for President Trump is very real—and it is growing! pic.twitter.com/1wExbTlgsX

— Giancarlo Sopo (@GiancarloSopo) October 18, 2020
The President will need as much support as he can get in critical battleground states like Florida. These parades and rallies might be a good sign for his campaign, despite most polls showing a Biden lead.
Expect to see more ardent enthusiasm from both sides as we get closer to election day.
Source: Breitbart