Trump Supporter "Photobombs" NASA In Boat – Minutes After Splashdown, Man Shows Off Trump Flag
What's Happening:
You might have missed the big space news, given everything else going on.
NASA and SpaceX accomplished the first successful splashdown of astronauts in decades.
It was the first successful feat of its kind made by a private company.
But minutes after they landed in the Gulf of Mexico, they were greeted by an unexpected sight.
A Trump supporter got to the craft first and unfurled his flag:
After landing, the capsule bobbed in the ocean for about 15 minutes as professional recovery boats sped to retrieve the astronauts — but they weren't alone on the water.

The landing site off the coast of Pensacola, Florida, drew a crowd of onlookers in their own boats. Some got close to the spaceship, including a boat flying a Trump flag that sped into view of NASA's live feed.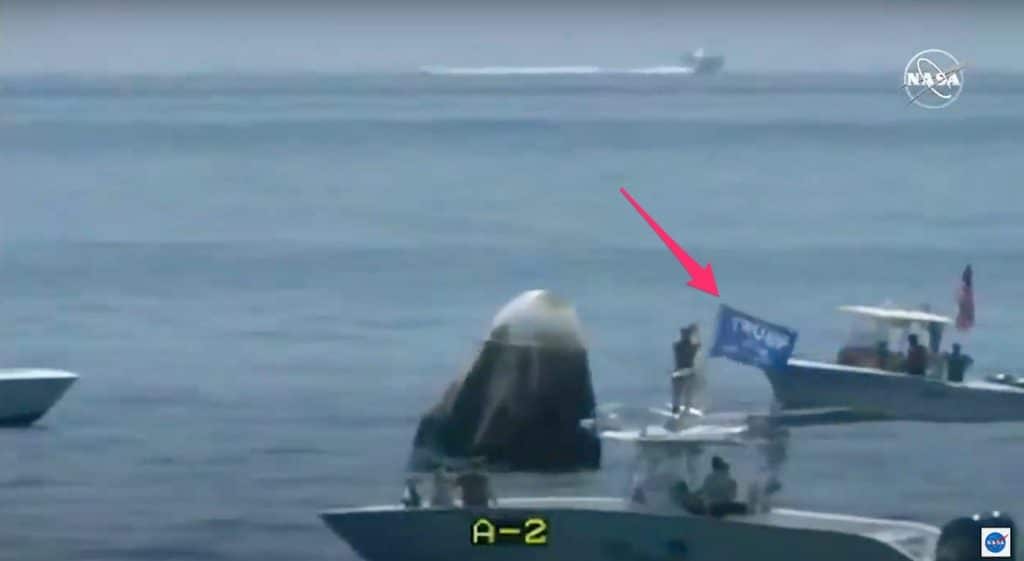 It appears that enthusiasm for Trump continues to surge in the Sunshine State.
Since the lockdowns, Americans have not been able to gather at major Trump campaign events.
However, boat-faring patriots have taken to the waters to show off their support for the president.
Numerous regattas and events have been held across the country, where conservatives showed off Trump's 2020 banner.
Many of these events have taken place in Florida, where the waters are a prime spot to celebrate the president.
Democrats are fighting tooth and nail to win back Florida. In 2018, the state took a decidedly red turn, by ousting Democrat senator and electing a new Republican governor.
President Trump has officially made his home the state of Florida. And it seems, even during a NASA victory, Trump supporters are on hand to champion their guy.
Key Takeaways:
A boat with a Trump flag appeared beside the NASA/SpaceX splashdown.
It was the first successful splashdown of astronauts in decades.
Trump supporters appeared nearby to witness the event and show the president support.
Source: Business Insider