After Trump Starts To Reopen America – His Approval Poll Takes A Turn, Tied With His Record High
After two months of panic and lockdowns, the president is working to reopen America.
The media is continuing their campaign against him, but Trump has not forgotten the millions who were forced out of their jobs.
Now, a new poll are in. And it looks like Americans are speaking loud and clear.
From Twitter: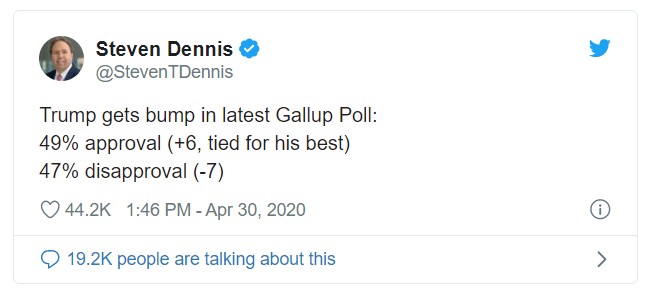 Trump gets bump in latest Gallup Poll: 49% approval (+6, tied for his best) 47% disapproval (-7)
According to a new Gallup poll, Trump's approval is reaching new highs. It's in fact tied for his best that poll has ever given him.
It jumped six points since the last poll, meaning Americans' view of his leadership is improving.
Back in March, you might remember his approval was rising. Americans were watching him lay out his plans to battle the disease during daily briefings.
The liberal media was so shocked, some started censoring the briefings.
As April rolled on, Americans more and more wanted to get back to work. We were stunned by the jobs lost and wondered if it was all worth it?
It seems President Trump is working more than anyone else to bring things back to normal.
Democrat leaders among many states want to keep us locked down. But Trump is rolling out a plan to restore what was lost.
We see which side most Americans are on. They want to get back to work and approve of Trump's desire to revive the economy.
SHARE if you approve of President Trump's job.
Source: Twitter