President Trump Calls Up Putin. With Just 3 Syllables He Puts The Fear Of God In Russia
President Donald Trump was quick to congratulate Vladimir Putin on winning Russia's recent presidential election.
But he also delivered a powerful warning, and Putin definitely needs to take it seriously.
Most of us certainly remember the Cold War and nobody wants that to happen again. But if push comes to shove, Trump is ready to throw down.
When Trump called Putin to say congrats on the win, he added that Russia doesn't want to get into another arms race with the U.S.
It was Putin's claim of new nuclear-capable weapons that "really got under the president's skin," according to NBC News, so Trump had to relay the following message:
"If you want to have an arms race we can do that…
…but I'll win."
Gauntlet thrown.
On the flip side, Trump told reporters that in general, it was "a very good call" and he even planned to meet Putin in the near future.
Furthermore, the President insisted on Twitter that improving relations with Russia is a good idea, and that he would succeed where his predecessors failed:
I called President Putin of Russia to congratulate him on his election victory (in past, Obama called him also). The Fake News Media is crazed because they wanted me to excoriate him. They are wrong! Getting along with Russia (and others) is a good thing, not a bad thing…….

— Donald J. Trump (@realDonaldTrump) March 21, 2018
…..They can help solve problems with North Korea, Syria, Ukraine, ISIS, Iran and even the coming Arms Race. Bush tried to get along, but didn't have the "smarts." Obama and Clinton tried, but didn't have the energy or chemistry (remember RESET). PEACE THROUGH STRENGTH!

— Donald J. Trump (@realDonaldTrump) March 21, 2018
However, he also mentioned the "coming Arms Race," though nobody is quite certain what he meant.
Well, one thing is for certain: Trump's stance remains as strong and as bold as ever; if there is another Arms Race, the U.S. will NOT back down.
Also, don't forget that tensions between the two countries in question have risen recently, as Trump expelled 60 Russian officials from the U.S. after the attack on a former Russian spy and his daughter in the U.K.
Russia retaliated by dumping 60 U.S. diplomats, too.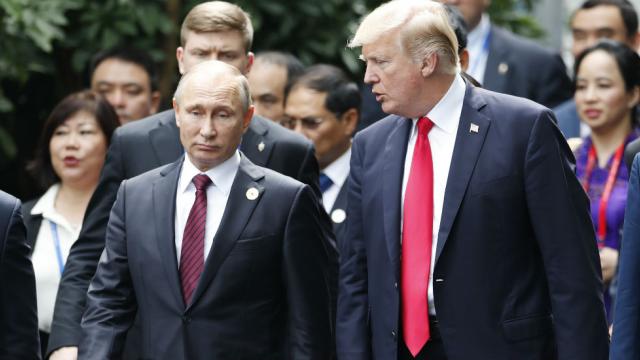 Therefore, things are far from rosy concerning our relationship with Russia, so maybe it was a good idea for Trump to deliver this warning.
Just be careful and watch your step, Vladimir.
Source: The Hill