Trump Dazes Omar In Her Own Backyard – Sends Her Begging Democrats On Her Knees For Money
Donald's got Ilhan Omar on the run!
Trump held a massive rally in the heart of Democrat territory. He was in Minneapolis, Ilhan Omar's home district.
The rally was packed with thousands of patriotic Trump supporters. The left was so scared of Trump's impact on the state, they tried to stop the event by forcing a massive security fee.
They failed, of course.
While speaking to America, Trump called out Omar. He exposed her track record in Congress and condemned her radical views.
Omar caught wind of his speech and in a desperate bid to salvage her career, turned to liberals to bail her out.
From Twitter: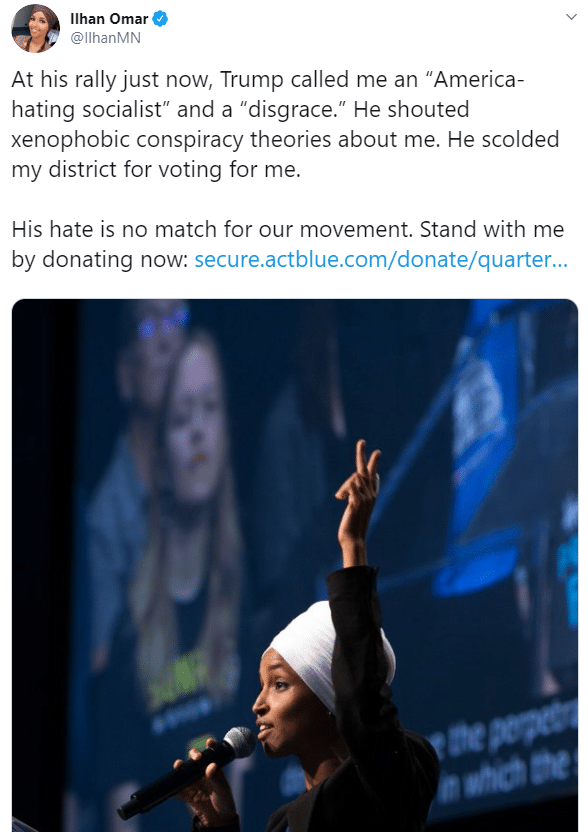 "At his rally just now, Trump called me an "America-hating socialist" and a "disgrace." He shouted xenophobic conspiracy theories about me. He scolded my district for voting for me. His hate is no match for our movement. Stand with me by donating now."
Wow. How blind can one person be? Sorry, Ilhan, you're not part of a movement. It looks like you're at the tail end of a dying party that long ago abandoned the American people.
President Trump 100% correct to call out your anti-Semitism, your love of socialism, and utter lack of accomplishments in Congress.
So I'm not surprised you're using this moment to squeeze more cash from your supporters.
Many Democrat-run cities are failing. But the Democrats leaders who represent them?
Let's just say they haven't missed many meals over the years.
Omar ignores the real problems facing her district while hitting her people up for more cash.
Just like a good liberal.
SHARE if you stand with Trump and want Omar voted out!
Source: Twitter