Trump Sparks Jobs Surge In Major Blue-Collar Industry
Great news for thousands of hard-working Americans in one critical U.S. industry. 
Donald Trump just keeps winning, despite constant attacks from the Left.
Jobs are coming back despite Obama's claim that Trump would never deliver on his campaign promise of being "the best jobs president."
Remember Barack going after Donald?
"Well, how exactly are you going to do that? What exactly are you going to do? There's no answer to it," Obama said regarding then-candidate Trump.
"He just says, 'Well, I'm going to negotiate a better deal.' Well, what, how exactly are you going to negotiate that? What magic wand do you have? And usually the answer is, he doesn't have an answer."
Obama went on to say that no one could bring back certain jobs, especially in the field of manufacturing, because all of those jobs were going to disappear due to automation.
Oh yeah? Then how did this happen?
From CNBC:
"The U.S. government reported that the manufacturing sector added 37,000 jobs during July, pushing the industry to the best annual job gain in more than 20 years.
Over the past year through July, U.S. manufacturing added 327,000 jobs, the most of any 12-month period since April 1995.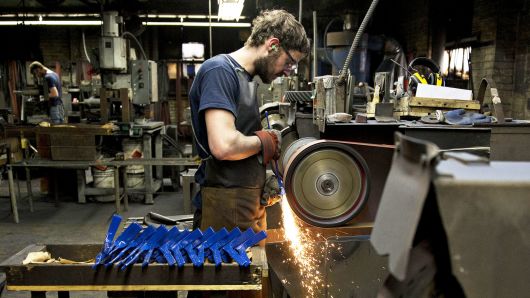 The sector received a boost from President Donald Trump's corporate tax cut and a lift in overall economic activity.
'With 157,000 jobs created in July, including 37,000 in manufacturing, this report shows tax reform and regulatory relief are continuing to deliver for America's manufacturing workers,' Carolyn Lee, executive director of the National Association of Manufacturers' Manufacturing Institute, said in an emailed statement."
Gee, I thought you said this couldn't be done, Obama.
But look: In the year and a half since Trump's inauguration, nearly 400,000 new jobs have been added to the economy.
The Bureau of Labor Statistics reported Friday that Hispanic unemployment rate had sunk to a record low in the month of July — marking two consecutive months where this figure hit all-time lows.
The numbers don't lie and since President Trump was elected, we've seen huge and unprecedented numbers.
It's no coincidence that the instant we got Barack out and Donald in, everything started to get better!
This booming economy party is just getting started … aren't you glad you voted for Trump?
Source: CNBC