Trump Sends GOP a Historic Demand – It Comes Minutes After Shock 2024 Update
The Presidential Election is less than a year away. There are still a number of Republicans fighting for the GOP nomination.
But their hopes of becoming the party's nominee took a major hit this week, after a new poll from Harvard/Harris came out.
From The Post Millennial:
The Harvard/Harris poll found that a staggering 67 percent of voters would vote for Trump in the GOP primary. This is nearly 60 points over Florida Governor Ron DeSantis, who lies in second place at 9 percent.
Consistent with most GOP primary polls, Donald Trump is leading the GOP field by a large margin. Many claim it is very unlikely any of the candidates will be able to defeat him, with 67% support.
And now, the former president is making a huge demand of the Republican National Committee.
From The Post Millennial:
In a Truth Social post made Monday, 2024 GOP frontrunner Donald Trump called for the Republican National Committee to cease primary debates and spend that money to take down Democrats in the fast-approaching election…

"RNC must save money on lowest ever ratings debates. Use it against the Democrats to STOP THE STEAL! If not, REVAMP THE RNC, NOW," Trump added.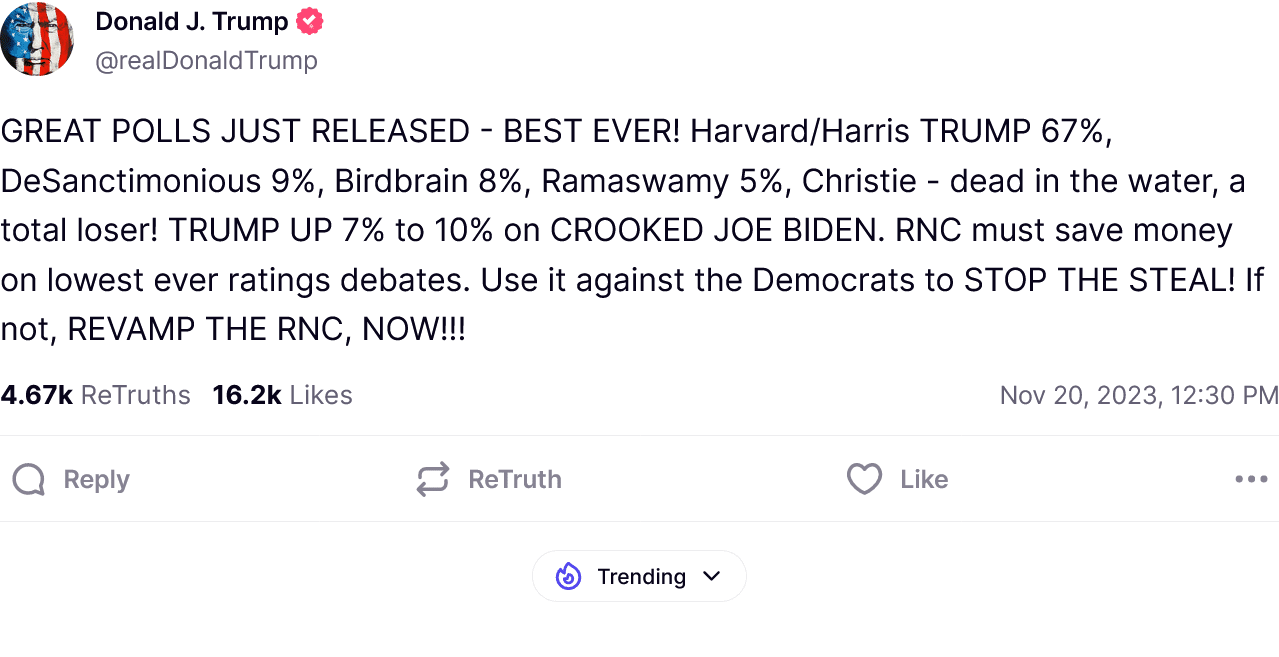 Donald Trump is calling on the Republican Party to end the primary debates–and, by extension, the primary battle–and focus its money on defeating Democrats next November. He said the GOP needs to use funds marked for the debates to "STOP THE STEAL."
This appears to suggest that Trump is continuing the claim that the 2020 Election was stolen. This will lead many to believe that the next election will be stolen by Democrats as well, although Trump did not specify how in his post.
The former president hit the GOP by saying the debates have had the "lowest ever ratings." According to reports, viewership of the debates has dropped since the first one–with the latest struggling to pull in many viewers.
It is likely Trump takes this as a sign that GOP voters have made up their minds and are not interested in the other candidates. Trump had decided to skip the debates, due to his large lead. He has spent the time campaigning in early primary states.
We do not know if the RNC will heed Trump's advice. Some might wonder why the party is spending so much time and resources on these debates when few of the candidates have double-digit support. Already a number have dropped out, leaving in doubt if any of them will be viable come 2024.
Key Takeaways:
Trump is leading his GOP rivals with 67% according to a new poll.
The former president has called on the GOP to end the debates.
Instead, he wants the party to use those funds to prevent Democrats from stealing the next election.
Source: The Post Millennial, The Post Millennial