Trump Gives Democrats Debate Present – He's Flying A Banner and Billboard For The Whole City To See
Only Donald could think of this – I love it!
The 2020 Democrats are all on one stage for the first time tonight, and Trump's got a few tricks up his sleeve.
As the left-wing candidates descend upon Houston, people won't help but notice a banner flying over the debate site.
And he's got a genius billboard he's been putting up for Houston drivers to see.
Democrats will definitely get triggered over this!
From Fox News:
The campaign says they'll fly a banner that reads "Socialism will kill Houston's economy" above the site of Thursday's third round Democratic primary debate… The banner will fly from 2 p.m.-6 p.m. local time, just ahead of the nationally televised showdown.
And here's the hilarious billboard: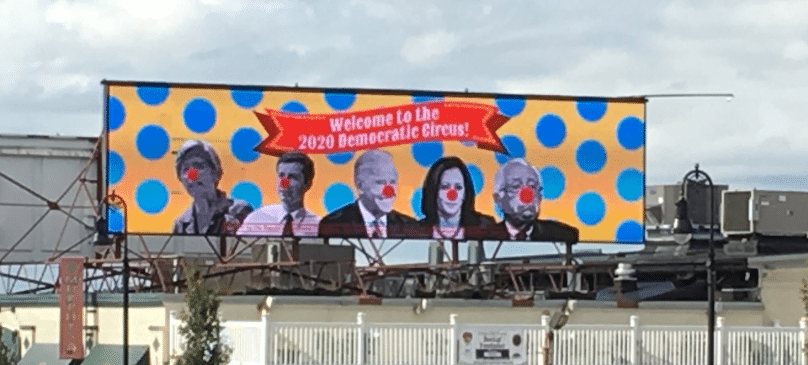 "Socialism SUCKS and @TeamTrump is flying high above the Dem debate in Houston to remind the circus in town that their policies will hurt Houston, Texas, and America!" Trump 2020 campaign manager Brad Parscale tweeted on Wednesday.
That's right, folks. Right as the 2020 liberal candidates' debate about their plans for America, Trump will be flying an anti-socialist banner over the venue!
This is so hilarious. Democrats right now are demanding we embrace an economic policy that will give more power and money to the government.
According to Trump, would ruin our country and strip Americans of freedom.
President Trump has famously vowed America will never be a socialist country. He is reminding the folks of Houston just what will happen if we embrace the left's plans.
Bernies Sanders wants to spend trillions on people who don't want to work. He'll get that money from you, hard-working Americans.
Just look at New York City. Democratic Socialist Alexandria Ocasio-Cortez killed a plan that would have brought much-needed jobs and billions of dollars to the city.
Democrats can't promise an economy better than the one Trump is providing. So, they've gone the whole "let's ruin the economy with massive taxes and spending" route.
Good job, you guys!
I would love to see the looks on their faces when they get a load of that banner.
SHARE if you think Trump has already won tonight's Democratic debate!
Source: Fox News