Trump Cranks Up Pressure On Pelosi – Demands Nancy To Approve A Coronavirus 2020 Payroll Tax Cut
President Trump is getting impatient with how slow and partisan Pelosi's House is acting.
The government needs to take quick action to help Americans. But it seems like Pelosi is using the situation to stuff the aid bill with her progressive "wish list."
Including goodies that go toward circumventing the Hyde Amendment.
Worse than that, she's ignoring Trump's biggest request of all.
Now, he's cranking up the pressure by turning to the American people.
From Twitter: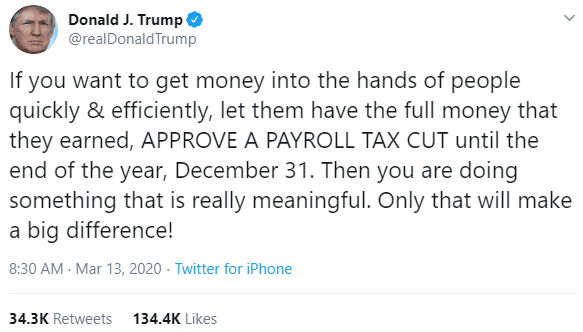 If you want to get money into the hands of people quickly & efficiently, let them have the full money that they earned, APPROVE A PAYROLL TAX CUT until the end of the year, December 31. Then you are doing something that is really meaningful. Only that will make a big difference!
President Trump called out Pelosi and Congress, demanding a payroll tax cut. He wants a payroll tax cut until the end of this year.
He argued that putting money into the hands of the American people is the best way to help them.
The president thinks this is going to make a big difference to alleviate this problem.
With uncertainty revolving the virus outbreak, the best way to relieve the problem is by aiding the American people, right?
That doesn't just mean providing medical aid. It's by helping Americans make ends meet during this crisis.
With a payroll tax cut, Americans will be taking home more pay. That will certainly help all Americans deal with the ongoing situation better.
But will Pelosi listen to Trump's demands? So far, she has seemed unwilling to include payroll tax cut in the bill.
The longer she waits, the worse the problem might get.
SHARE to tell Pelosi you want the payroll tax cut NOW!
Source: Twitter