Days After Donald's Positive Test – A Trump Caravan Of 100 Vehicles Shuts Down New York's 5th Avenue
What's Happening:
Since President Trump tested positive for COVID, we've seen Americans' true colors.
People from all backgrounds—and all corners of the country—expressed their unvarnished feelings.
We're happy to say that—barring some glaring exceptions—most of what Americans have said was positive.
Patriots are coming out of the woodwork to pull for Trump. And a group of patriots shut down New York's Fifth Avenue to rally for POTUS:
A caravan of more than 100 vehicles shut down Fifth Avenue in New York City to support President Donald Trump as he battles the coronavirus.

The long line of trucks, cars, and motorcycles mostly came from Long Island, bringing traffic to a halt for at least 30 minutes as they arrived outside Trump Tower to cheer for him, shouting "Four more years," the New York Post reported.
A group of Trump supporters held an impromptu car rally for the president after he was diagnosed with COVID.
They stormed New York's Fifth Avenue, shutting it down for a time, to cheer the president on.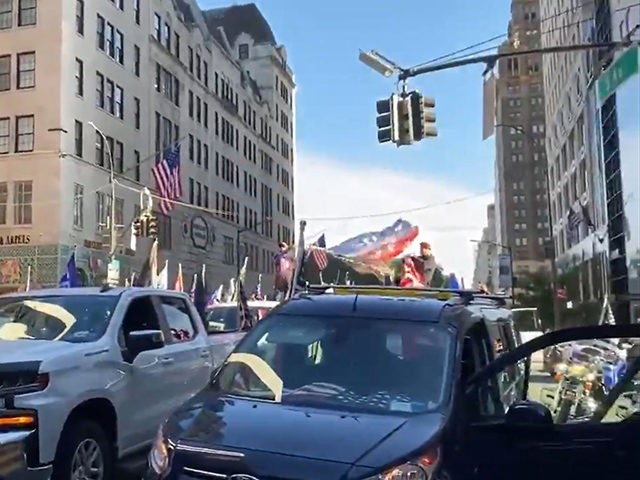 Over 100 vehicles were crammed with supporters shouting, "Four more years."
While New York was Trump's birthplace, it has not been the home of his biggest fans in recent years.
But Trump's COVID test has seemed to unite Americans in a way a rally or campaign event never could.
Americans of all stripes are becoming bolder to declare their support for the president.
Much like a brush with death, these Americans are realizing how important Trump is to this country.
And they are no longer going to stay silent.
These supporters in New York even had a moment of silence for the president to send "good energy" his way.
A moment of silence in the middle of Manhattan!? Now you know these people were motivated!
No arrests were made, even though they were technically blocking traffic. Hmm… perhaps the local cops were in favor of this movement?
Across the country, similar acts of support have been popping up. It seems the president has more than a few people pulling for him as he recovers.
Key Takeaways:
Americans all over the country are rallying in support of Trump's recovery.
Over 100 cars stormed Fifth Avenue NY to show the president support.
They held a moment of silence and later chanted "Four more years."
Source: Breitbart