Trump Wins Multiple American Victories – He Just Sent Impeachment Dems Scrambling
Despite all the obstacles Donald Trump has faced, he just keeps winning for America.
Our president has had to deal with constant attacks from Democrats, liberals, and the left-wing media.
The impeachment inquiry is only the latest attempt to smear our Commander-in-Chief.
…but none of it is working.
Trump continues to  press forward; he continues to drive America to new heights. This proves just how great of a leader he really is!
Over the weekend, our country made several HUGE strides, and impeachment-crazy Democrats have been utterly silenced.
Trump announced the update this morning in a wonderfully positive, patriotic tweet: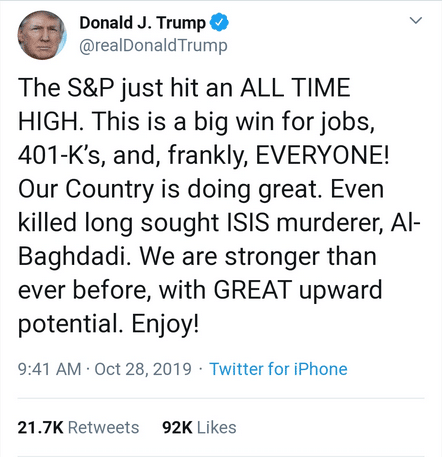 The S&P just hit an ALL TIME HIGH. This is a big win for jobs, 401-Ks and, frankly, EVERYONE!
Oh, we don't just enjoy it, Mr. President … we LOVE it!
The stock market just keeps going up, and our economy hasn't been this healthy in a very long time.
It certainly didn't see this level of success during the Obama years, and I don't recall the Barack administration taking down a high-ranking ISIS criminal, either.
It's amazing that Trump has managed to succeed on such a high level, especially in the face of endless obstructionism.
Can you imagine what he'd be able to accomplish if those anti-American Democrats would just shut up and let him do his job…?
We all know why they have to keep attacking him personally, right?
It's because his job performance is so good. They can't go after that, so they attempt to smear him in other ways.
But we know the score. We're not about to ignore Trump's accomplishments, even if the media does.
And it's because of these great accomplishments that we predict another landslide victory for Donald in 2020!
SHARE to help celebrate the Trump administration's tremendous success so far!
Source: Twitter