After 3 Quiet Days From President Trump – Donald Sends Out 15 Messages On Voting For Him
What's Happening:
President Trump was admitted to Walter Reed Medical Center last Friday for treatment for his COVID infection.
After he shared his diagnosis, he shared next to nothing that day. The media, as usual, flooded the internet with unsubstantiated rumors.
Over the weekend, he provided a few short updates on his health. President Trump insisted to Americans that he was on the mend.
But first thing Monday morning, it looks like Trump was ready to get back to work:
At roughly 6:30 AM, President Trump started tweeting political messages… His feed then quickly turning to what can objectively be called a series of oversimplified campaign slogans, all delivered in ALL CAPS.

BIGGEST TAX CUT EVER, AND ANOTHER ONE COMING. VOTE!

STRONGEST EVER MILITARY. VOTE!

STOCK MARKET HIGHS. VOTE!
President Trump filled his Twitter feed with over fifteen tweets giving Americans reason to vote – we have just included some of the best.
In addition to urging Virginians to vote for him, not the Democrats, he posted various reasons conservatives need to show up at the polls.
He reminded Americans of all the crucial reasons they need to vote this November.
Trump posted about pro-life, the Second Amendment, the VA, healthcare, and much more.
The president slammed the media and Democrats who he said will increase our taxes—which would "shut our economy and jobs down."
It appears that Trump is truly on the mend. Doctors have been talking about him leaving the hospital as early as today.
UPDATE: Trump announced on his Twitter that he will be returning to the White House this evening: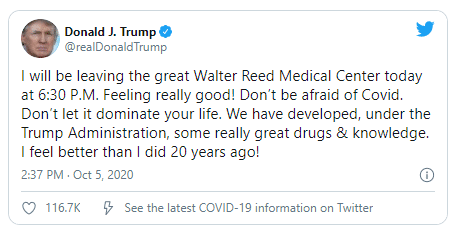 It appears the liberal-leaning media's speculation that Trump was "done for" was wildly overblown.
According to the president himself, he feels "better than I did 20 years ago."
I guess not even COVID-19 can stop this president.
Key Takeaways:
The media speculated over Trump's condition after he tested positive for COVID.
He was silent over the weekend, posting only a few video updates.
This Monday, he flooded Twitter with messages for Americans to vote.
Source: Twitter