Trump Shares His 15-Day Hope For Shutdown – Tells America, "We Can't Let The Cure Be Worse Than The Virus"
Americans want to know what's going to happen next with this coronavirus crisis. And they're looking to President Trump for guidance.
Democrats seem to be falling apart at the seams. They are blocking needed legislation in Congress.
Liberal governors are reeling as their states are hit by the disease. Without the support of the federal government, who knows what they'd do?
More and more states are taking drastic measures. They are ordering Americans to stay home—but how long can that last?
(And is it even Constitutional?)
How many trillions of dollars will be lost in the economy? How many millions of lives will be impacted by these extreme rules?
Well, Trump is sharing his sincere hope.
From Twitter: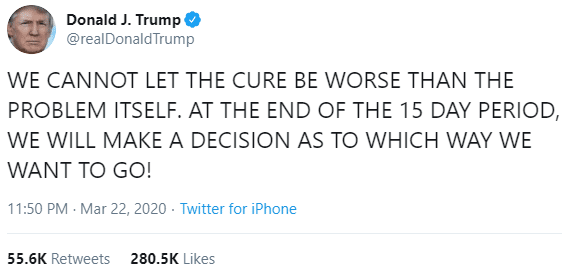 WE CANNOT LET THE CURE BE WORSE THAN THE PROBLEM ITSELF. AT THE END OF THE 15 DAY PERIOD, WE WILL MAKE A DECISION AS TO WHICH WAY WE WANT TO GO!
Trump took to Twitter, saying we can't let the "cure" be worse than the problem itself. That's definitely how many people feel right now.
State and local governments are acting more and more like dictatorships. They are forcing restaurants and other businesses closed.
They are demanding that we not leave our houses. Really? We already know what we have to do to avoid contracting and spreading the disease.
Studies show that only a portion of our population is at great risk. Yet these governors are punishing the entire country—with no end in sight.
On March 16, the federal government issued their 15-day advice to "slow the spread." Those radical rules mandate we don't gather in groups of more than 10.
That's pretty severe—and means that countless businesses, companies, and events are upended.
How long can we really put up with rules like this? We know how the Spring Breakers feel.
But when will regular Americans get sick and tired of this constant fear, panic-shopping, and uncertainty spread by both the government and the media?
Something has to give. Even President Trump is signaling that these strict rules can't last long.
Americans need to get back to work. Children need to go to school We have to live our lives, virus or no.
Nobody wants the health care system overwhelmed. But remember, this outbreak wasn't our fault. It was forced on us.
The truth is, we don't want anyone else in the White House during a time like this. Trump is willing to make the tough calls. But he also cares very much for everyday Americans hurt by this crisis.
Do you think Joe Biden would care about a dad who can't feed his kids? Or a working mom forced to stay home instead of earning a paycheck?
Something tells me Joe doesn't even really know what's going on. Do you want him to take over in just a few short months?
SHARE to thank President Trump for boldly leading the country through this crisis.
Source: Twitter