After City Ditches 'Pledge Of Allegiance' – Trump Drops His Presidential Hammer And Gets Them To Do A 180
And Donald got them to make a big change!
A town in Rep. Ilhan Omar's district – St. Louis Park, Minnesota – voted to drop the Pledge of Allegiance from their city council meetings.
The council voted unanimously to ditch the Pledge in the interest of "diversity."
Of course, many people – including myself – didn't understand how erasing a symbol of patriotism has anything to do with diversity.
In response, a lot of outraged citizens protested the decision, and the Minnesota Senate Republicans ripped the town for its "shocking" decision.
Then, at the height of the protests, President Trump stepped in.
…and that had an immediate and tremendous impact.
Trump tweeted his thoughts on the controversy, as reported by The Daily Wire: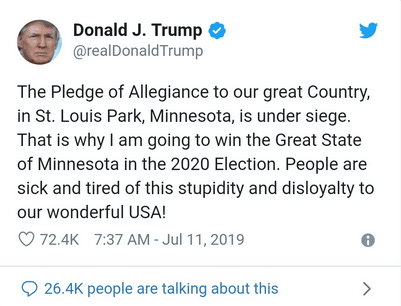 "The Pledge of Allegiance to our great Country, in St. Louis Park, Minnesota, is under siege.

That is why I am going to win the Great State of Minnesota in the 2020 Election.

People are sick and tired of this stupidity and disloyalty to our wonderful USA!"
Nothing but the truth!
And not long afterward, the city felt compelled to respond … because nobody ignores Donald, right?
On Monday, the council voted – again unanimously – to reinstate the Pledge of Allegiance!
I guess the mounting pressure was just too much for these officials, who should be respecting and loving this country.
The best part is that City Council Member Steve Hallifan offered an apology (via FOX9):
"I've concluded that I made a mistake and I'm sorry and I'm asking for forgiveness."
That's a much-appreciated apology and actually, I DO forgive him.
I believe these people just got caught up in the unhealthy and damaging ultra-leftist wave, which includes a definite anti-patriotic sentiment.
The media apparently wants people to believe that it's okay to disrespect our country, and that newcomers actually don't like the country.
All of this is inaccurate, in my estimation.
And these council members have realized that, due to the tremendous backlash and the President's hard-hitting reply.
They've done the right thing: they've brought the Pledge back and apologized. Gotta give them credit for that, right?
SHARE if you support Trump and the Pledge of Allegiance!
Source: The Daily Wire