Texas Police Stand Up To Defund City – Buys Billboard To Warn Citizens To Enter Austin 'At Your Own Risk'
What's Happening:
Many Americans are concerned over the left's trend to defund police departments.
Surveys suggested a large majority of Americans are very much against it.
To the shock of many, the City of Austin, TX voted to slash millions from their own police budget.
Now, the police union is putting up billboards, warning people to think twice before entering the city:
The Texas Municipal Police Association (TMPA) has put up two billboards along Interstate 35 entering Austin after the city council voted last month to cut the Austin police budget. One of them reads: "Warning! Austin defunded police. Enter at your own risk!"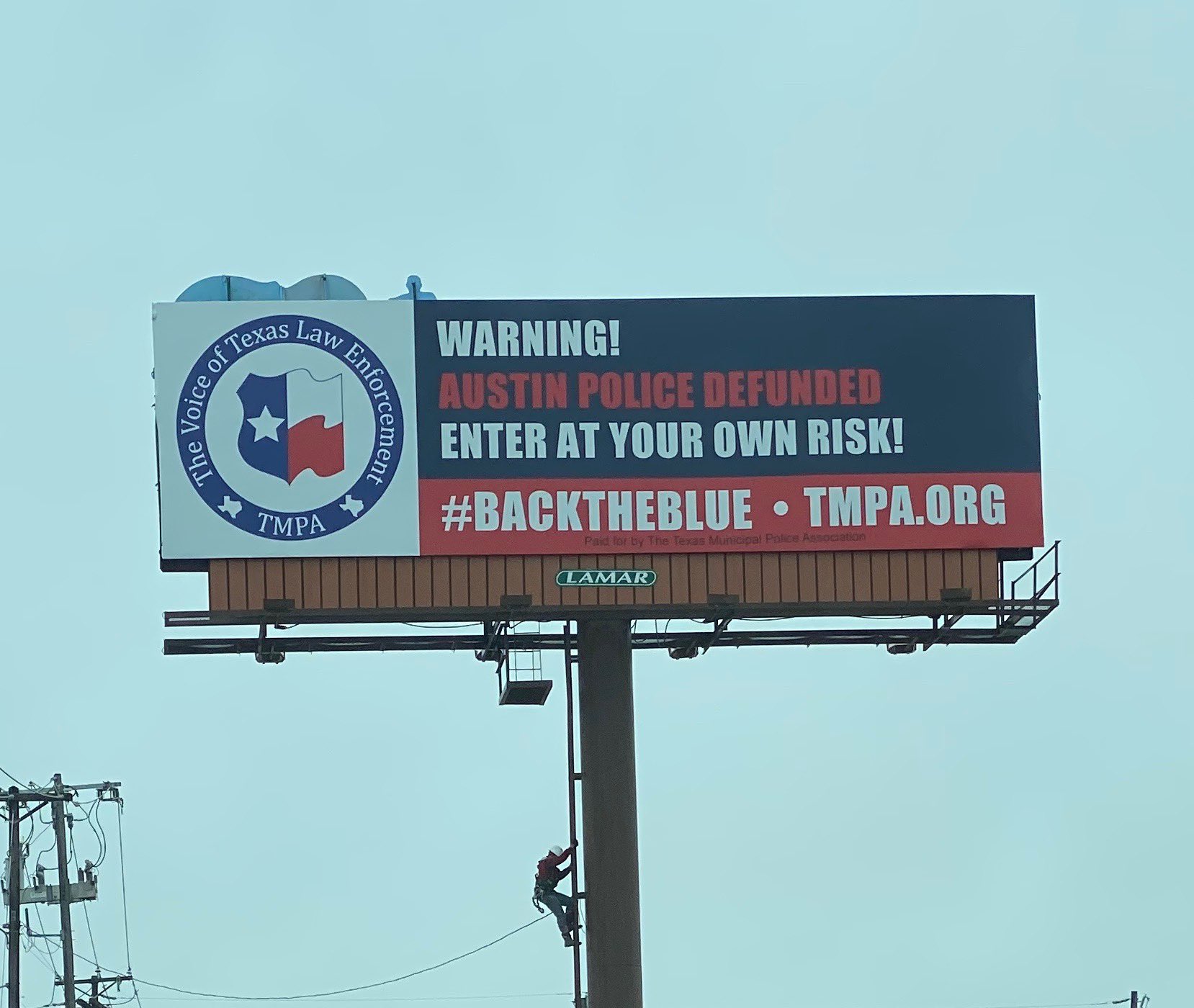 The second says, "Limited support next 20 miles," according to the association.
The Texas Municipal Police Association put up billboards warning people as they enter Austin.
So far, they put up two billboards, letting people know that—thanks to the leftists on the city council—Austin police have fewer resources to keep them safe.
One sign says "Warning! Austin defunded police. Enter at your own risk!"
The other, "Limited support next 20 miles."
Texas Gov. Abbott himself criticized the move, showing his support for Texas law enforcement. He is even threatening cutting state funding to any city that defunds police.
This goes along with measures the president himself has discussed to hold accountable cities that defund their police.
Recently, the president has considered cutting federal funds from major, left-wing cities that have defunded police and let rioters run loose.
Police officers have been largely ignored by the MSM, as radical activists protest and slander them.
But in recent months, police unions have become more and more vocal, defending their members—who put their lives on the line every day.
Don't be surprised if more billboards pop up around Austin. Or in other parts of the country.
Key Takeaways:
The City of Austin slashed millions from the police budget.
The TMPA posted billboards, warning people travelling into the city.
The governor personal criticized cities that seek to defund police.
Source: CBS News