After Supreme Court Takes Up Touchy Case – Chuck Schumer Threatens 2 Justices, Says They Will 'Pay the Price'
The Supreme Court just took up a touchy case over abortion. It's one that Democrats and Republicans will clearly be at odds about.
But that doesn't matter. The Supreme Court is a separate branch of our government. They have every right to rule on important issues.
Without interference from another branch.
I guess Chuck Schumer doesn't understand that. Fearing Trump's appointed justices might not rule the way he wants, the Democrat made a shocking warning.
It was totally inappropriate.
From Washington Examiner:
Sen. Chuck Schumer took aim at Supreme Court Justices Brett Kavanaugh and Neil Gorsuch, promising to make them "pay" as the pair is set to rule on abortion regulations.

"I want to tell you Gorsuch, I want to tell you Kavanaugh: You have released the whirlwind, and you will pay the price," the New York Democrat said Wednesday at a rally for abortion rights. "You won't know what hit you if you go forward with these awful decisions."
(Full video is below in Trump's tweet.)
Wow. Schumer all but threatened Neil Gorsuch and Brett Kavanaugh. He said they will "pay" if they rule against the Democrats' agenda.
There is no way you can misinterpret Schumer's threat. He's saying, "Vote the way we want or we'll punish you."
Are you insane, Chuck? I know that Democrats to stop at nothing to protect their "holy grail" cause. But this is totally outside the bounds of Schumer's authority.
The Supreme Court is a separate branch of our government for a reason. It's so they can rule on the Constitutionality of laws—without the influence of Congress or White House.
Imagine what the media would have done if it was Trump saying this? They would have impeached him again, already!
But apparently Chuck can say these things, with no repercussions?
Well, it looks like the consequences are already pouring in. Chief Justice Roberts issued a rare rebuke of the Senate Minority Leader: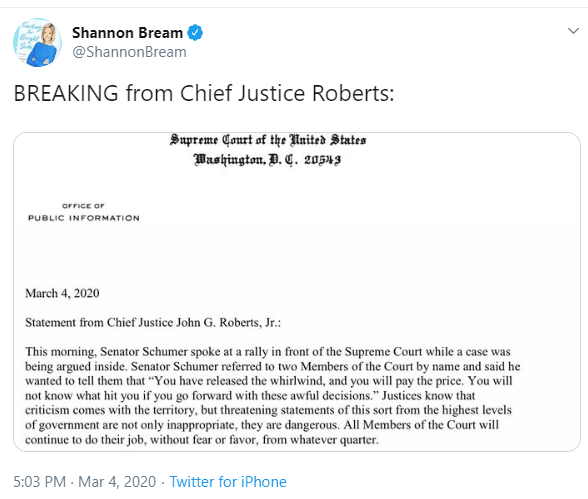 "Justices know that criticism comes with the territory, but threatening statements of this sort from the highest levels of government are not only inappropriate, they are dangerous."
Then Trump quickly responded:
This is a direct & dangerous threat to the U.S. Supreme Court by Schumer. If a Republican did this, he or she would be arrested, or impeached. Serious action MUST be taken NOW! https://t.co/WqQUbyzaJU

— Donald J. Trump (@realDonaldTrump) March 5, 2020
And it looks like moves to officially censure and rebuke Schumer are on the way from Mitch McConnell and Josh Hawley.
What does Chuck think he's going to do? He can't fire a Supreme Court justice. And he can't mount an impeachment just because he doesn't like how they rule.
Does that mean Chuck really means what he said? Does he think he can scare justices into doing what he wants? Is that what the Democratic Party has devolved into?
SHARE if you want Schumer to pay for threatening the Supreme Court!
Source: Washington Examiner