After Supreme Court Cancels Citizenship Test – Trump Sets The Record Straight
Democrats reported Donald gave up – but no, he's just getting started.
President Trump wanted to put a simple question on the 2020 census: are you an American citizen?
Seems pretty straightforward. But Democrats are terrified that American will find out just how many non-citizens are living here, voting, and taking government handouts.
To make matters worse, the Supreme Court upheld a lower court's decision to keep the question off the census. They claim they did not have enough time before 2020 to rule. Sounds like a weak decision to me.
But President Trump refuses to let that stand. He has made a single vow that will ensure the question remains.
From Twitter: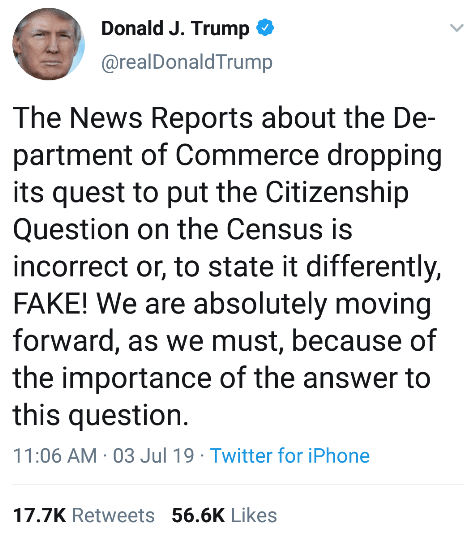 The News Reports about the Department of Commerce dropping its quest to put the Citizenship Question on the Census is incorrect or, to state it differently, FAKE! We are absolutely moving forward, as we must, because of the importance of the answer to this question.
The media tried to report that Trump was giving up, when in fact he is doing everything he can to keep the question on the census.
It's that important to Trump!
It may seem like a trivial thing. But Democrats are fighting it for a reason.
They don't want you to know how many people are here—that shouldn't be. They don't want the government to make decisions based on the number of real citizens.
Some stats say that there are over 11 million "non-citizens" in the U.S.
That number is enough to sway elections, give states more representatives in the House, and change the way the federal government operates.
But if they were clearly marked as non-citizens in the upcoming census, Democrats would lose a lot of power.
Especially since most of these non-citizens boost the population of liberal states—giving them more power in Congress and more electoral votes.
That is why they are fighting to keep that number off the census. And why Trump is fighting to make sure it is there.
Democrats don't believe citizens should come first. They have built their entire agenda on putting outsiders ahead of you and me.
They believe they should have a greater say in this country than hard-working, real citizens.
Do you agree with that?
SHARE if you think America should care who is a citizen—and who isn't.
Source: Twitter