Stranger Spots Veteran's Bumper Sticker – Then Leaves The Driver A Tear-Jerking Note
"It really touched my heart," she said.
Lauren Osborne is a retired Florida Highway Patrol officer and U.S. Air Force veteran.
And like most of those who serve, she knows all about loss.
But she has experienced loss in a very personal and tragic way:
Her brother was a U.S. Marine who committed suicide after a difficult battle with post-traumatic stress disorder (PTSD).
Lauren doesn't want her brother's struggle to be forgotten, though, and she hopes to alert others to the trials of PTSD.
That's why she has this decal on her vehicle: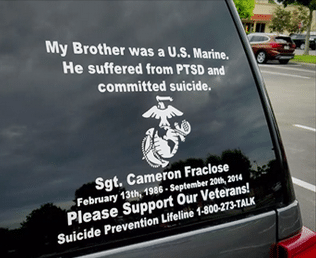 Lauren is begging people to support our veterans, and to take advantage of a suicide prevention hotline, which could save lives.
She will never forget her brother, who says his last tour in Afghanistan "really changed him for the worse."
But she probably never expected a perfect stranger to send her condolences…
It happened one day when Lauren returned to her car, and found a strange note on her windshield.
When she read it, she must've had tears in her eyes: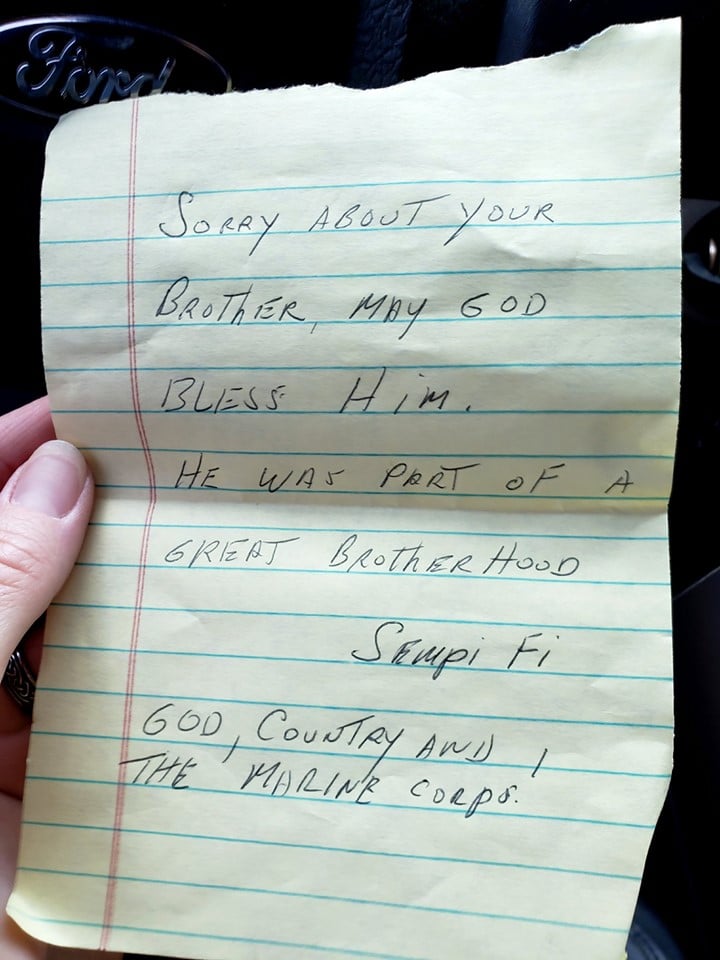 "Sorry about your brother. May God bless him. He was part of a great brotherhood.

Sempi Fi … God, Country, And The Marine Corps."
Lauren never found out who left this note, but she's eternally thankful for it.
As she told WINK News:
"There's no way that I could really thank him for what he did.

It was really sweet."
She added that many people actually will "belittle and criticize" those who suffer from PTSD, which is why she was so moved by the stranger's letter.
Lauren said this show of unwavering support "really touched my heart," and I don't doubt it.
It's sad that so many still don't understand just how damaging PTSD can be, and it's also sad that not enough citizens respect the sacrifices our heroes make.
But obviously, one patriotic and kindhearted stranger does!
Please share this wonderfully touching story — and always remember to support our brave veterans in ALL their struggles!
Source: Liftable