After Speaker Pelosi Loses It On Live TV, Trump Drops His Presidential Hammer
Queen Nancy never saw 'The Donald' coming…
Speaker Pelosi doesn't seem fit to serve public office. We've been saying that for a long time.
Anyone don't believe us? Then take a look at a recent video, where she loses it discussing Trump (but feel free to keep reading when you can't take it anymore).
The aging and clearly out-of-it Pelosi slammed her hands on the podium as she attacked Trump's tariffs on Mexico.
Tariffs, by the way, that have actually worked—Donald succeeded in making a deal that got Mexico taking a long list of actions!
This isn't the first time Pelosi has lost it over Trump.
And the president has been patient with her for long enough—he fired back with some strong words of his own.
From an interview on Fox News:
"I think she's a disgrace. I actually don't think she's a talented person, I've tried to be nice to her because I would have liked to have gotten some deals done," Trump said…

"She's incapable of doing deals, she's a nasty, vindictive, horrible person, the Mueller report came out, it was a disaster for them."
Boom. Trump brutally condemned Pelosi, saying she's untalented and unable to make deals. He said she's nasty and vindictive.
But he wasn't done. Then he went on Twitter and gave her a new nickname and made her regret the way she has treated him: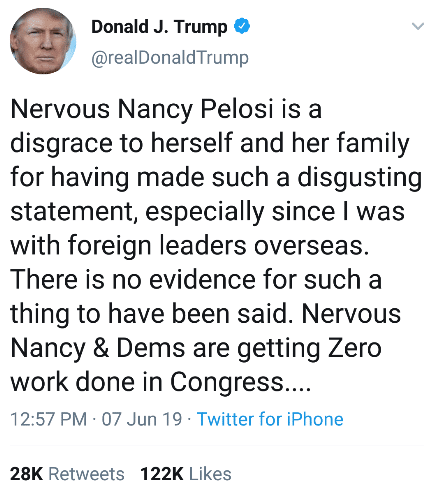 And he wasn't done yet…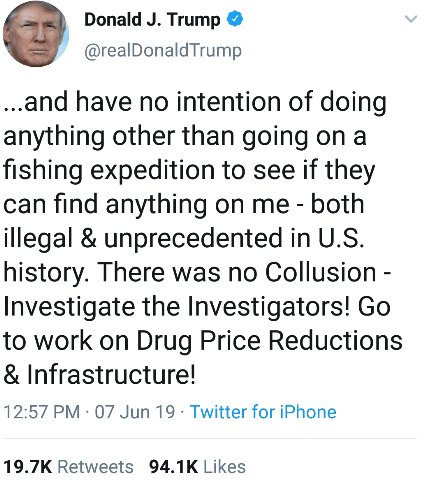 I think you will agree.
Nancy Pelosi has spent decades in Washington but has accomplished next to nothing to actually help the American people. She has refused, time and again, to work with Trump on numerous deals.
Is she even sane anymore?
She can't lead her own party in the House. And she seems to be unable to communicate properly.
Don't forget, when Trump entered office, he extended an olive branch to Pelosi and wanted to get projects like infrastructure done. When she became Speaker again, he offered it again. But she seems to despise him too much to get anything done.
The fact that she fought Trump on the border problem is her biggest mistake. Politics aside, our nation is facing a major problem.
Hundreds of thousands are pouring in, but Pelosi denies it's a problem. Mexico is even doing more to help that she is.
Why? Maybe because she thinks she's getting new voters?
And hat does that tell you about Pelosi? She is so lost in her feud with Donald, she won't do anything to help Americans.
SHARE if you side with President Trump, not Nervous Nancy!
Source: Fox News