Southern State Governor Outlaws Sanctuary Cities – Sparks Democrat Outcry
Democrats never thought he'd dare – he's starting a movement across the nation.
The "sanctuary city" has always been a loophole for those trying to hide from the law—but now it's getting shut down.
But one state governor has been saying for months that he's not on board with the ridiculous concept of sanctuary cities.
He promised that he'd sign a bill that would completely ban sanctuary cities from his state.
And now that bill is a reality.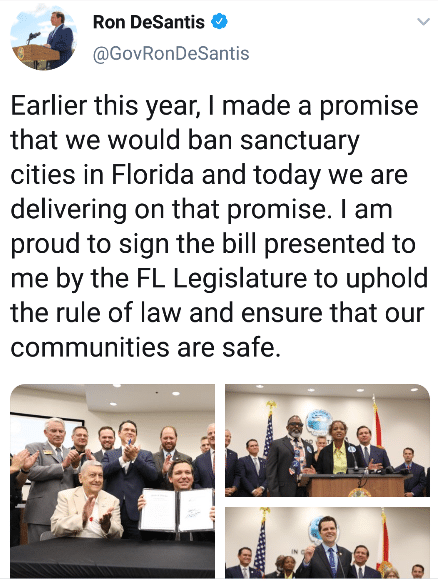 "Earlier this year, I made a promise that we would ban sanctuary cities in Florida and today we are delivering on that promise. I am proud to sign the bill presented to me by the FL Legislature to uphold the rule of law and ensure that our communities are safe."
Thank you, Governor Desantis!
Florida's Republican Governor Ron DeSantis has officially outlawed sanctuary cities in his state.
Thank you, Governor Desantis!
As DeSantis said, they're just "law-free zones" for unwanted individuals to "commit criminal offenses and then just walk right out the door and continue to do it." Exactly!
But now it's not going to be happening in Florida, which is significant because it's a major port of entry for many people looking to sneak into the U.S.
So it comes as no surprise that liberals are flipping out over the new law. As you might expect, the leftist outcry has been immediate and vocal.
The ACLU of Florida condemned the move and issued a "travel alert" warning travelers due to the "risk of detention."
That's right, a so-called American organization actually encouraging law-breaking people to avoid arrest.
And liberals like Andrew Gillum actually called it an "attack":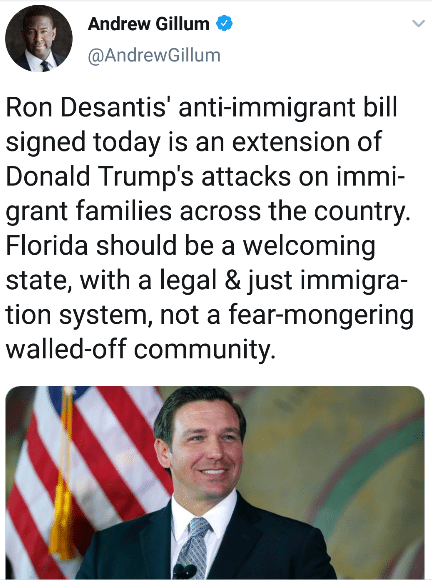 No, Andrew, it isn't an attack, and I thought we didn't have to hear from you after you lost.
It's a bill that honestly shouldn't even have to exist; it simply says the state will follow federal law, nothing more.
But apparently, Democrats think they only have to follow the laws they like.
For our part, we're very happy to see another state take a step in the right direction, and it will give other states the courage to stand up to Democrats and do the same.
SHARE if you think sanctuary cities should be banned in EVERY state!
Source: CBS News