Democrat Senator Shows Up To D.C. With Purple Hair – The Capitol Is Buzzing About Krysten Sinema
We've seen some pretty unexpected things during this pandemic. But this might be a first.
People have done all sorts of things to cope with the lockdowns. Most involve keeping their spirits up with activities and reaching out to friends. But some might have gone out on a limb over this crisis.
This week, a senator appeared in D.C. with quite a new look. Wearing a surgical mask, she showed off her new purple hair.
From Daily Caller:
Democratic Arizona Sen. Kyrsten Sinema definitely got everyone's attention Monday when pictures started surfacing of her rocking purple hair during the pandemic…

She didn't explain much about the change of look from her platinum blond locks, to the new vibrant hair color.
Uh… what? Democrat from Arizona, Kyrsten Sinema arrived on Capitol Hill wearing a mask and sporting a bright purple hairdo.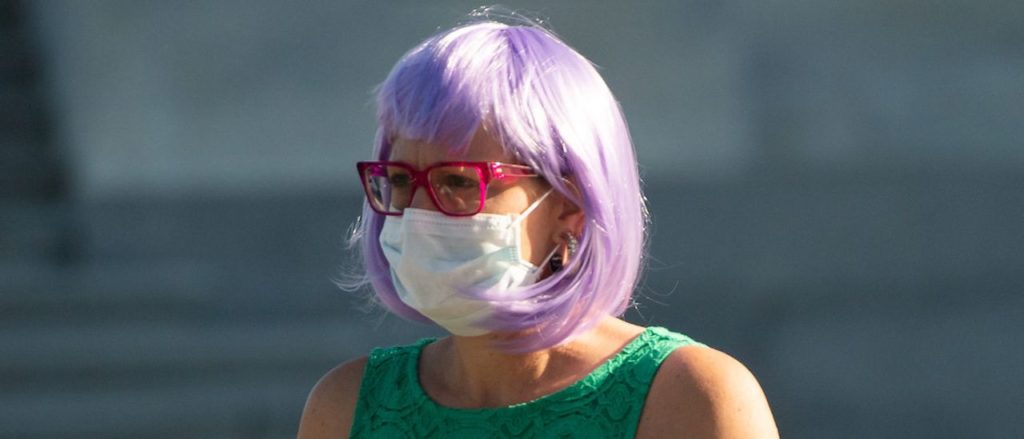 It seems like the senator did not explain the look, though people were buzzing about it on social media.
Radical hair color choices are usually the forte of young teenagers trying to "find" themselves. We certainly weren't expecting to see a U.S. senator rocking a look better left to the workers at Hot Topic.
But hey, it's not the first dye job in Congress, right? Unless you think 80-year-old Nancy Pelosi doesn't have a single gray hair!
We know that salons and barbershops are closed. So perhaps Kyrsten couldn't get her usual stylist to take care of her?
Maybe this was the only dye she could get her hands on? Maybe it was something she did with her friends or family to take some of the edge off?
We're not sure, but it doesn't scream "senatorial," does it?
COMMENT to tell us what you think of Sinema's hair.
Source: Daily Caller