Adam Schiff Is At It Again – He Wants To Open A New Investigation Into Government Response
During a time of crisis, a country is supposed to come together.
It's supposed to put politics aside and unite against a common foe — in this case, a pandemic that's sweeping the globe.
Well, apparently, House Intelligence Committee Chairman Adam Schiff didn't get the memo. Look what he's up to.
I think we should be focused on the current problem. But Schiff would rather focus on assigning blame for the problem.
Just two months after leading a failed impeachment attempt, Schiff is now looking to investigate the Trump administration. Again.
He first posted the announcement on Twitter: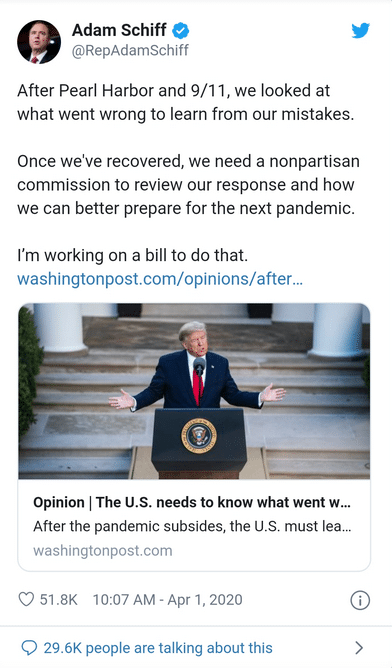 After Pearl Harbor and 9/11, we looked at what went wrong to learn from our mistakes.

Once we've recovered, we need a nonpartisan commission to review our response and how we can better prepare for the next pandemic. I'm working on a bill to do that.
You've GOT to be kidding me.
So, while Donald Trump and the entire country are working to fight an epidemic, Adam Schiff only seems to care about pointing fingers.
Doesn't this sound like just another political maneuver?
Rep. Devin Nunes certainly thinks so. He recently told Fox News that Schiff's call for investigation was in fact a "dumb stunt."
This should come as no surprise, though. Remember, Schiff was all in on the Russia conspiracy theory, and he wanted Trump impeached for the Ukraine fiasco.
In short, this guy seems to be gunning for the President at every turn.
So now, he's using a crisis to do it again … at least, that's what it looks like to many Americans.
Maybe instead of continually going after our Commander-in-Chief, Schiff could work WITH him to help the country.
Is that really too much to ask?
SHARE if you agree that Adam Schiff's new investigation is nothing but a "dumb stunt"!