Hours Before Schiff's Public Impeachment – Trump Reveals 'More Important' Transcript Coming
Schiff thought he had Trump in his sights – but the president just threw him a curveball!
The Democrats are trying to impeach Trump over a phone call. They want you to believe that the president tried to force Ukraine to do what he wanted.
But even as they announced their bogus impeachment charade, he took the air out of their sails. He released the transcript of the call that proved he never forced Ukraine to do anything.
Now, Schiff wants to take this inquisition—I mean inquiry—public. But hours before his first hearing, POTUS plays another trump card.
He is releasing more proof that he is innocent of the left's charges.
From Twitter: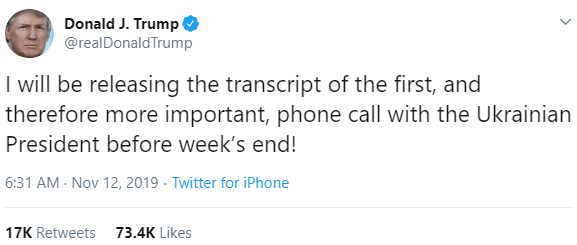 "I will be releasing the transcript of the first, and therefore more important, phone call with the Ukrainian President before week's end!"
The left didn't see this coming! They were so intent on nailing him over the call the whistleblower reported.
Why is this one more important? Because it was the first time Trump spoke with Ukraine's new president. He would have discussed the most urgent matters between our two countries.
If he was going to pressure Ukraine or offer a quid-pro-quo, it would have been then.
But Trump makes it clear that this call will prove, once again, that he did nothing wrong.
Funny how the whistleblower the left loves so much knew nothing about this call. Why wouldn't he mention anything from this one?
Unless this so-called whistleblower doesn't know what he's talking about. He made a complaint about the president based on second-hand, and incomplete, knowledge.
Yet the Democrats tried to use his bogus complaint as the basis of an impeachment inquiry.
Now we see they know less than we originally thought! This entire thing is a sham from the very start.
But the question is, will they continue to push this scam, even after more evidence emerges proving Trump's innocence?
I'll let you answer that one yourself.
SHARE if you support President Trump, not Impeachment Schiff!
Source: Twitter