After Schiff Makes Up Impeachment Proof – Donald Trump Calls For The Democrat's Removal And Investigation
Schiff slipped up – and Trump's bringing his impeachment hunt crashing down!
Rep. Schiff made a big mistake during his first impeaching hearing and Trump's making him pay.
The Democrat opened what was supposed to be a serious hearing into the call between Trump and Ukraine.
Everyone assumed Schiff would read out the transcript of the conversation. Instead, he read a fabricated retelling of the call. It completely misrepresented what was said, just to make Trump look guilty.
Now Trump wants justice for what Schiff did.
From Twitter: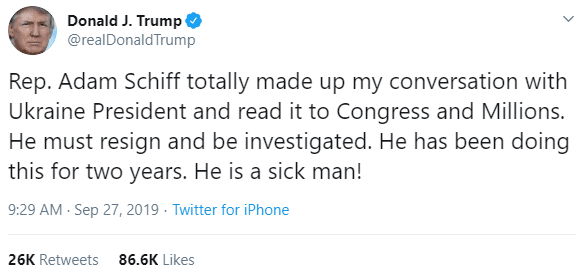 "Rep. Adam Schiff totally made up my conversation with Ukraine President and read it to Congress and Millions. He must resign and be investigated. He has been doing this for two years. He is a sick man!"
Woah. Trump wants Schiff to resign from Congress over his antics.
Sounds harsh, but it's pretty clear Schiff isn't interested in facts—he's looking for only one outcome: impeachment.
Schiff's opening with that fake transcript cast doubt over the entire proceedings. Did he think he would get away with it? Does he think this is all a joke?
The entire act proved the Democrats want to distort an innocent phone call as an excuse to impeach Trump.
It looks like they have no hard evidence he did anything wrong. Now Trump is accusing Schiff of lying to Congress and the American public.
Pretty serious charges. But Schiff did it to himself, and Trump wants him to pay for the consequences.
SHARE if you think Schiff should be removed and investigated immediately!
Source: Twitter