Bernie Supporter Says They Might Derail 2020 – If Sanders Loses, They "Won't Vote For Biden, Or Any Of The Others"
The Democrats' circus train is about to jump the rails.
First, we saw a bizarre feud break out between "socialists" Elizabeth Warren and Bernie Sanders. CNN and Warren accused Sanders of saying a woman can't be elected.
A new movement to block Sanders from getting the nomination is growing. Establishment liberals seem to have their knives out.
But hardcore Bernie supporters are issuing an official warning.
If their socialist doesn't get the nomination, they'll stay at home!
From Washington Examiner:
Bernie Sanders supporters are warning that a lack of enthusiasm for Joe Biden could bring about the same result that nominating another establishment Democrat did four years ago: electing Donald Trump…

"When I look at some of these other candidates out there, I can see them just sucking any enthusiasm from any undecided voters. So anyone who might have been for Bernie won't vote for Biden, or any of the others out there," Jackelen told the Washington Examiner after a Sanders town hall in Newton.

"I think that people will sit at home because they see establishment Democrats that don't really care."
And that may have been one Bernie supporter's opinion, but here are some tweets that show the sentiment seems real: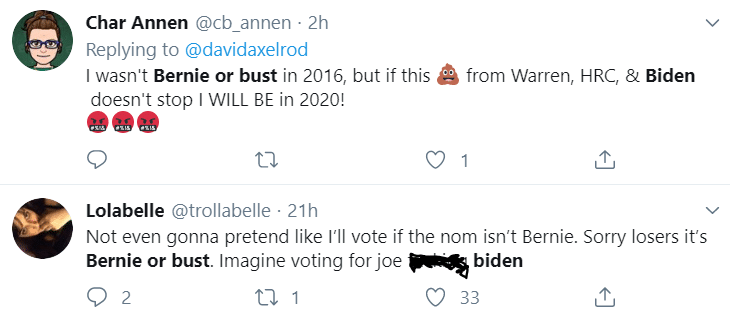 This is pretty amazing. In many ways, we are seeing a repeat of 2016.
You might remember how, when the Democratic Party turned their backs on Sanders, his supporters lost interest.
Many suspect Sanders' people refused to vote for Hillary Clinton (some say a few voted for Trump).
Once again, we are seeing the mainstream media and establishment Democrats gunning for Sanders.
They are attacking him left and right, trying to take the steam out of his campaign.
His supporters are warning the party: if you nominate someone like Joe Biden, we ain't voting.
Pretty incredible. I'd say most Americans wouldn't want to vote for a radical like Bernie. His far-left policies would drastically impact our economy.
Some might say for the worst.
But Sanders' people are so driven with their desire for free stuff, they are threatening the party.
If he doesn't get nominated, they might not bother to vote at all. Or they say many Americans won't vote for Biden over Trump.
Either way, it spells doom for this primary season. Not a single vote has been cast and it already seems over.
SHARE to tell everyone how Democrats may be imploding before our eyes!
Source: Washington Examiner