Report: Sanctuary City Impact On America Revealed—8,000 Go Missing
Looks like Trump was right—the latest Sanctuary City report reveals 8,000 gone missing, and the mainstream media will never report on it.
From the way the media tells it, the people illegally crossing over our southern border are sent from heaven itself.
These individuals can do no wrong, and anyone who says an ill word about them is a racist who must be silenced.
The truth is, Latinos are no better or worse than any other race of people. Some are good, but some are evil, and it's the evil ones that force us to have tough immigration laws.
Trump highlighted the need for strong immigration laws by recently holding a press conference with "angel moms" who have lost their children to illegal immigrant violence.
These heartbroken mothers repeatedly said that while illegal immigrant parents may temporarily be separated from their children at the border, it is they who will forever be separated from their children, "by six feet of dirt."
These illegal aliens are coming from lawless countries, and coming into the U.S. doesn't erase the lawless mentality that many of these people have.
Trump has long been railing against those who grant illegal criminals asylum through sanctuary cities, and recently received more proof that these policies are doing irreparable damage to American citizens.
From IJR:
"Last week, the White House revealed that sanctuary policies allowed thousands of criminals to roam free in the fiscal year 2017.
Sanctuary policies resulted in the release of 8,000 undocumented immigrants who committed crimes, according to the White House.
The numbers came amid a broader debate about immigration and, in particular, 'sanctuary cities,' which often refuse to comply with federal immigration enforcement."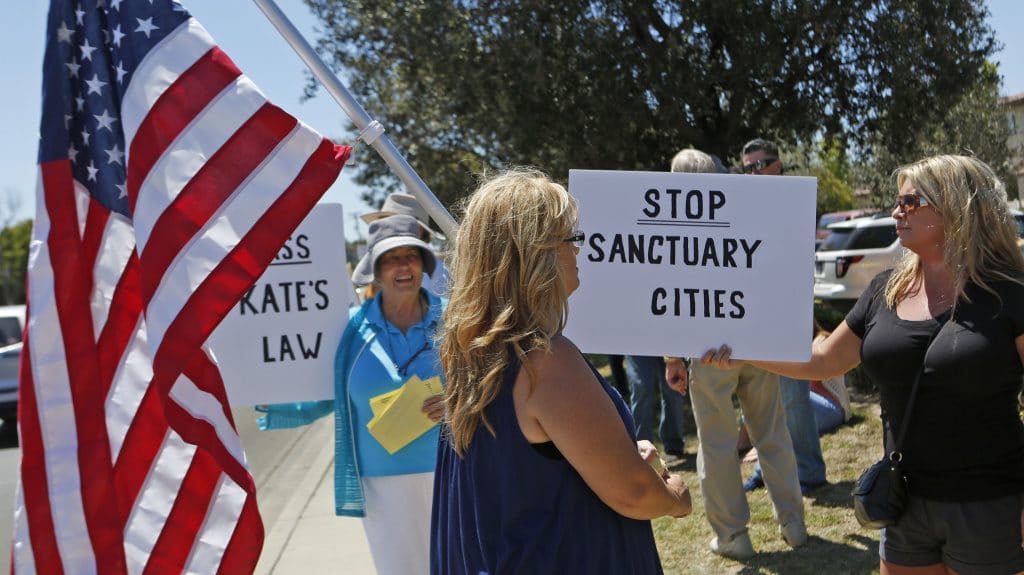 What more proof do the liberals need to realize that sanctuary city policies lead to increased crime?
Sanctuary cities and states should not receive any government funding, as they are breaking the law.
Being a sanctuary city or state is an act of rebellion against the United States, and proves that Democrats care more about helping criminals than law-abiding American citizens.
Every crime committed by an illegal immigrant is an excess crime; it's a crime that would never have occurred if the criminal hadn't crossed our border illegally.
When a sanctuary city protects an illegal, the city is actively contributing to our crime burden. Congress needs to outlaw sanctuary cities, protect our borders, and deport the illegals.
Citizens in Mexico, Central America and South America need to be sent home to fix their own countries before coming here to ruin ours.
Source: IJR