After Marco Rubio Supported Mueller Over Trump – McConnell Appoints Him As The Acting Senate Intelligence Committee Chair
Marco Rubio has a mixed reputation in D.C. The Florida senator is generally conservative and loyal to the party.
But after Trump defeated him in 2016, he supported the Mueller probe—which Trump was strongly opposed to.
This tweet shows how, back in 2017, Rubio trusted Mueller and his investigation, which has strongly come into question over recent days. From Twitter: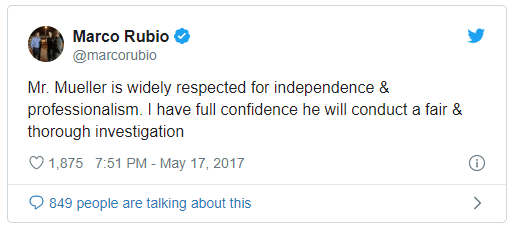 Mr. Mueller is widely respected for independence & professionalism. I have full confidence he will conduct a fair & thorough investigation
And now, Mitch McConnell is putting him in an important position within the Senate that could have an important bearing on these ongoing investigations.
From CBS News:
Republican Senator Marco Rubio of Florida has been selected to serve as the acting chair of the Senate Intelligence Committee, Senate Majority Leader Mitch McConnell announced Monday…

"Senator Rubio was the natural choice for this temporary assignment on the basis of accumulated committee service," McConnell said.
McConnell announced Rubio would become the temporary chair of the Senate Intelligence Committee. This is an important group that oversees numerous cases.
This is also a group that could have sway over the Senate's ongoing inspection of the Flynn investigation. Not to mention the growing concern into what Trump calls "Obamagate."
The question we now need to ask is: how will Rubio perform? Will he stay loyal to the president and Republicans?
Will he make sure he gets justice done in this investigation?
Or will "Little Marco" break rank and align himself with the D.C. swamp, as he appeared to do during the Mueller probe?
Will his history with Trump color his role as head of this powerful committee?
Republicans need to keep a close eye on him. Because the last thing we need right now is another cover-up to protect the powerful D.C. elites.
SHARE if you think Rubio needs to be held accountable.