Romney Threatens To Block Biden Investigation – Then Congress Rolls Over Him And Mitt Gives In
Mitt Romney hasn't shaped up to be much of a conservative champion, has he?
The senator betrayed the Republican party when he was the only Republican to vote against Trump during the impeachment.
Some have accused him of being a secret, Democrat agent. Wild speculation? Probably, but it is hard to figure out what Mitt is really up to.
And just as Republicans began to build a case against Joe Biden, Romney reared his ugly head.
From Fox News:
Sen. Mitt Romney, R-Utah… questioned the motivation behind a Republican effort to issue a subpoena related to Hunter Biden and his dealing with Ukraine.

"I would prefer that investigations are done by an independent, non-political body," Romney told the Washington Post. "There's no question the appearance is not good."
Really, Mitt? You accuse Republicans of being political over the Bidens? The Democrats impeached Trump over a phone call.
You didn't have too much trouble voting for their partisan attack, did you?
According to reports, Mitt was a pivotal vote in moving subpoenas forward. If he voted against it (siding with Democrats) Republicans would not be able to proceed with their investigation.'
But news has just broken that Republicans were able to keep Romney in line.
From Twitter: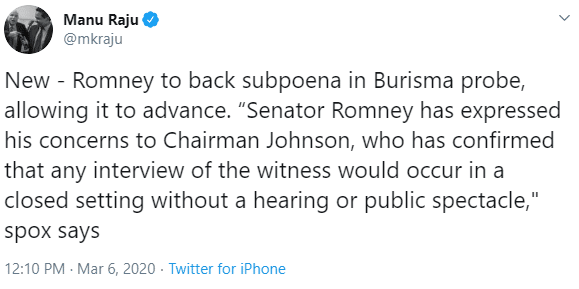 New – Romney to back subpoena in Burisma probe, allowing it to advance. "Senator Romney has expressed his concerns to Chairman Johnson, who has confirmed that any interview of the witness would occur in a closed setting without a hearing or public spectacle," spox says
According to a new report, Romney will be voting to back the subpoena. This means Senate Republicans will be able to get some new information about the Biden-Ukraine connection.
We know many Americans are still demanding answers from Joe Biden and his son. The former VP has refused to give an adequate response to concerns that he used his position to enrich his family.
Now, we might finally get to the bottom of it.
It's shocking to think we almost miss this, because Romney was playing games. He accused Republicans of being "political." Even though this is a serious matter everyone should be concerned over.
At least the rest of the party was able to help Mitt "see the light."
SHARE to tell Romney to get in line – or get out!