Man Posts Hilarious 'Hack' Allowing Him To Mute Any Public TV Playing The View
Often times the most genius of ideas are the simplest.
I saw this post on Facebook today and I just HAD to share with everyone.
Have you ever found yourself waiting at the doctors office only to be forced to suffer watching some delusional liberal talk-show hosts blabber about politics?
As this genius below would agree…
"Playing 'The View' in waiting rooms should be illegal."
LOL!
You couldn't be more spot-on with that one. How people even watch that stuff is beyond me…
So when I saw what this man does to silence public TVs playing liberal garbage, I wanted to spread the word.
Check out his post: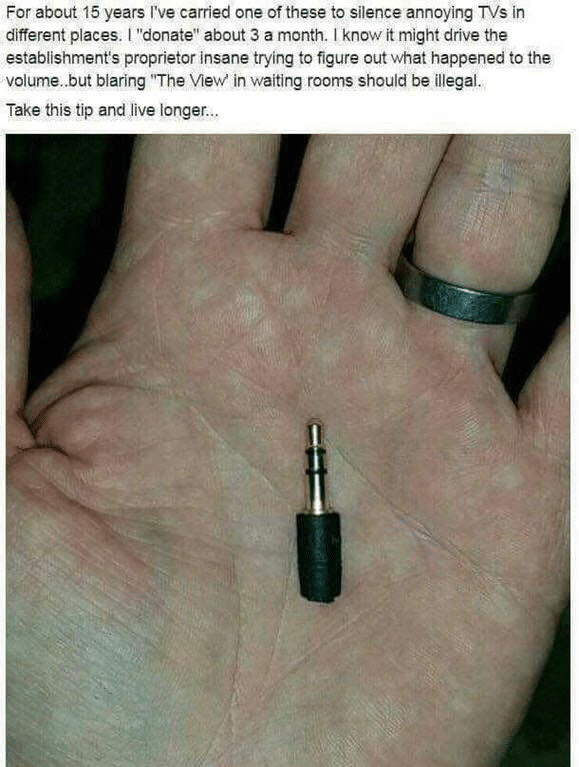 Here's what it says…
"For about 15 years I've carried one of these to silence annoying TVs in different places. I "donate" about 3 a month. I know it might drive the establishment's proprietor insane trying to figure out what happened to the volume…but blaring 'The View' in waiting rooms should be illegal.

Tale this tip and live longer…."
For those of you who don't know, that is a headphone jack that would normally have a cord on it going to a pair of headphones. He snipped the cable, so it just silences the TV by sending the sound nowhere!
I love it!
Not only do I not want to hear it, but honestly nobody should be listening to that crud.
I'm going to have to get me some of these…
Thanks for the tip fellow Conservative, stay strong and keep Making America Great Again!
Also check out this petition:
Source: Reddit