After Pete Buttigieg Drops Out Of 2020 Race – President Trump Now Becomes The Youngest Man In The Race
Ah, Mad Magazine's favorite candidate has dropped out of the race!
After a crushing loss in South Carolina, Pete Buttigieg has dropped out of the race. I guess he wasn't willing to hold out until Super Tuesday.
Pretty stunning, if you think about it. Mayor Pete won Iowa and came in second in New Hampshire.
The "moderate" was considered a real opponent to socialist Bernie Sanders. Perhaps he's making room for Biden—to take out Sanders?
But, wouldn't you know? Pete's exit gave Trump this remarkable title.
From Twitter: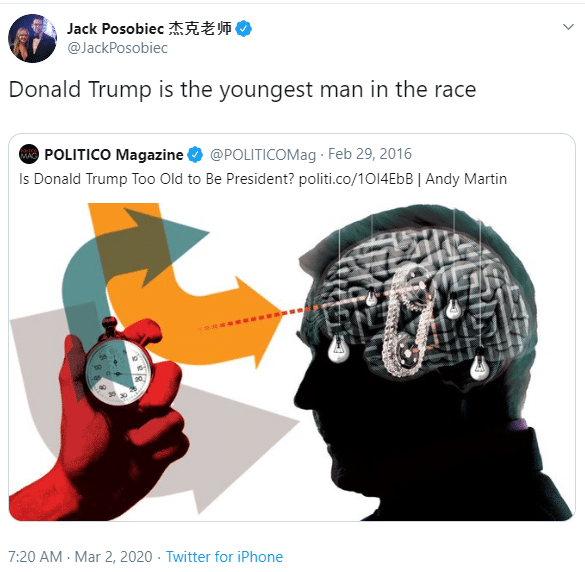 Donald Trump is the youngest man in the race
That's right, boys and girls, With Pete's (timely) exit from the race, Donald Trump is now the youngest man running.
Donald Trump is 73 years old. He will be 74 come election day (his birthday is June 14). Bernie Sanders is a shocking 78 years old. And Joe Biden clocks in at 77. Bloomberg ties with Bernie at 78.
(If you're wondering, Elizabeth Warren—who is still in the race—is 70. Hardly a spring chicken. And she's got no shot now, some sites give Hillary a better shot than her.)
Let's be honest. Being the president is a strenuous job.
I wouldn't want a man in his 70's to have the job.
Unless, of course, it's Donald Trump. The man seems to run on diesel fuel.
He seems to have more energy than people half his age.
Meanwhile, his Democratic rivals (even Warren) suffer from a noticeable lack of energy. Bloomberg flopped during his debate.
Joe Biden is "Sleepy Joe" to many Americans. And Bernie Sanders? Dude had a HEART ATTACK a few months ago.
I think it's fair to say that the age and health of the candidates is pretty important.
Compare that to Donald Trump, who hosts wild and exciting rallies every few days. Do you have any worries about his energy or age?
SHARE if you're voting for Trump, the youngest man in the race!
Source: Twitter