After Pelosi Loses It In Trump's White House – Donald Begs The Democrats To 'Help' Her And Pray For Her
Nancy melted down – now Donald is asking the Democrats for a favor!
If you haven't heard yet, Nancy Pelosi and Chuck Schumer were supposed to have a meeting with the White House.
They were supposed to discuss the situation in Syria. The meeting with the president should have brought comprise and new ideas in dealing with the conflict overseas.
Instead, Pelosi and Schumer stormed out, quickly go to the media.
From Fox News:
Pelosi, along with Senate Minority Leader Chuck Schumer, D-N.Y., and House Majority Leader Steny Hoyer, D-Md., walked out of the meeting Wednesday afternoon, which had been intended to discuss the administration's decision to pull troops out of northern Syria.
Pelosi walked out of the meeting and immediately accused President Trump of many things. She and her colleagues even said he was insulting and "mentally unstable."
But I have reason to doubt everything she claimed. Remember, this isn't the first time she and Chuck stormed out of meeting with Donald Trump.
Not that long ago, they were supposed to meet with him to discuss important funding issues. And, like today, she stormed out—going straight to the press to insult Trump.
Funny how Pelosi only stays in these meetings long enough to get to the media. As if, she's not really interested in working with Trump, but to jump in front of the cameras.
As Pelosi and Schumer threw insults at the president, he had this to say about it.
From Twitter: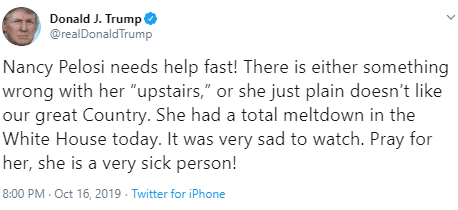 "Nancy Pelosi needs help fast! There is either something wrong with her "upstairs," or she just plain doesn't like our great Country. She had a total meltdown in the White House today. It was very sad to watch. Pray for her, she is a very sick person!"
Woah. President Trump questioned Pelosi's "upstairs" (meaning her mind) and said she went on a meltdown during the meeting.
I have reasons to believe Trump over Pelosi, because he included pictures!
Check this out: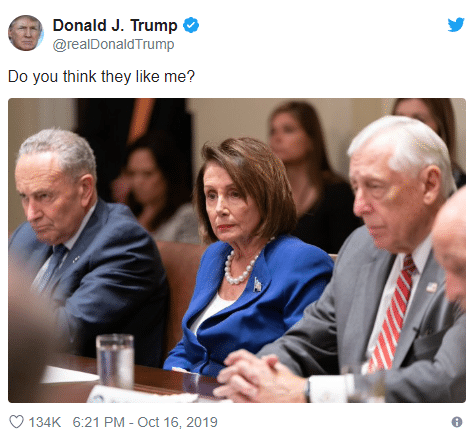 We see Pelosi and Schumer (and the rest of their goons) scowling like comic book supervillains. In one, Pelosi is on her feet, jabbing a finger at the president.
Talk about professional!
The media can say all they want about Trump, but we've never seen him meltdown or shout at anyone. Nor has he ever stormed out of an important meeting like a spoiled brat.
That meeting was supposed to address the conflict in Syria. Lives are at stake while Pelosi throws a temper tantrum.
Really makes you wonder what's going on in her upstairs.
SHARE if you think Pelosi should get help – or step down!