Nancy Pelosi Sued By Over 20 House Republicans For Alleged Breach Of Constitutional Tradition
During these trying times, the battle between Republicans and Democrats has only intensified.
For example, did you know the GOP just accused House Speaker Nancy Pelosi of an "unconstitutional proxy voting scheme?"
Not only do they accuse Pelosi, they're prepared to go to court!
That's right, the GOP led by House Minority Leader Kevin McCarthy (R-CA) are suing Speaker Pelosi.
And Pelosi and her Democrat colleagues might not be able to sweep this one under the rug.
Via The Daily Wire:
House Minority Leader Kevin McCarthy (R-CA) filed a lawsuit against Speaker Nancy Pelosi (D-CA) on Tuesday evening in an attempt to block the House of Representatives from allowing representatives to vote on behalf of up to ten other members of Congress as a designated proxy voter.
Sounds like trouble, Nancy!
She's not only facing McCarthy, either — nearly two dozen Republican members of congress are plaintiffs in the lawsuit.
They all believe that Pelosi's "scheme" violates the Constitution. Said McCarthy in a recent Tweet: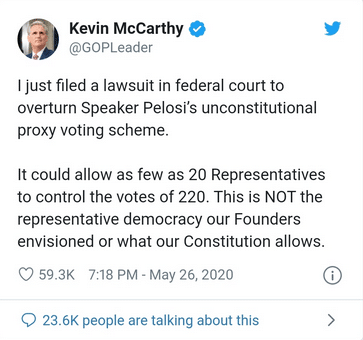 I just filed a lawsuit in federal court to overturn Speaker Pelosi's unconstitutional proxy voting scheme.

It could allow as few as 20 Representatives to control the votes of 220.

This is NOT the representative democracy our Founders envisioned or what our Constitution allows.
The lawsuit makes it clear:
So far, 55 Congress members have sent letters to the House clerk, "designating another representative as their official proxy voter."
That number is now up to 59 … and ALL of them are Democrats.
As a result, the lawsuit urges the court to uphold the Constitution, and reverse Pelosi's ruling. And that's what we should always support: THE CONSTITUTION.
How many times have we seen examples of possible Democrat manipulation? Why does it always feel like they're going against the Founding Fathers?
Let's hope McCarthy and his fellow Republicans win this suit!
SHARE if you think Nancy Pelosi has once again violated the law of the land!
Source: The Daily Wire