After Pelosi And Schiff Botch Impeachment – President Trump Calls For Them To Be Impeached
Nancy and Adam messed up bad – and now Donald wants them to pay up!
It turns out Pelosi and Schiff probably knew about the whistleblower beforehand.
Now they're playing fast and loose with the rules to impeach Trump without a vote to protect red state Dems.
But the worst part of it all?
Schiff's made-up Trump call, and Pelosi having the gall to claim he didn't make it up.
So Trump is making the call we've been waiting for. From Twitter: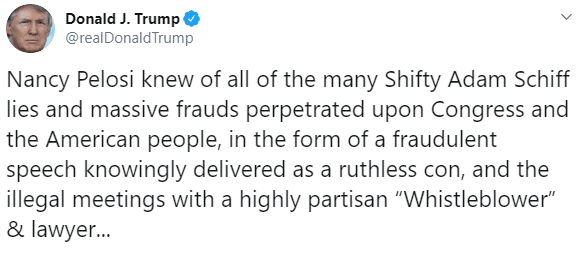 "Nancy Pelosi knew of all of the many Shifty Adam Schiff lies and massive frauds perpetrated upon Congress and the American people, in the form of a fraudulent speech knowingly delivered as a ruthless con, and the illegal meetings with a highly partisan "Whistleblower" & lawyer…"
And then Donald finished big: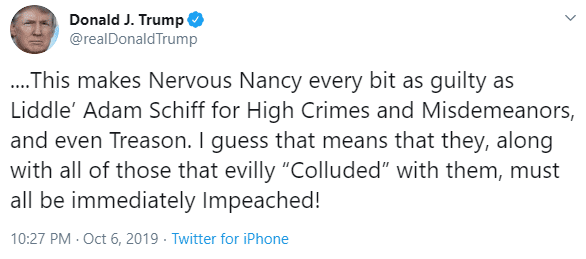 "….This makes Nervous Nancy every bit as guilty as Liddle' Adam Schiff for High Crimes and Misdemeanors, and even Treason. I guess that means that they, along with all of those that evilly "Colluded" with them, must all be immediately Impeached!"
Trump really spent them spinning!
What has Trump done? Well, they don't have evidence to prove he pressured Ukraine for Biden dirt, but he has plenty of evidence he didn't.
But he has evidence these two actually conspired to impeach the President on trumped-up charges.
Maybe they can't technically be "impeached" as members of Congress, but they can be recalled and removed for what they've done.
But it's going to take an outcry from the American people.
SHARE if you want Pelosi and Schiff removed from Congress!