Moments After Pelosi Promises Impeachment – Trump Orders 'Do Nothing Democrats' To Do It Fast
Nancy didn't think Donald would react this way – here he comes!
Nancy Pelosi set Democrats on a collision course with impeachment when she made her recent announcement.
I can only wonder what was going through her mind when she doomed her party? Did she really think Trump would cower in the White House?
Did she think he would break under the pressure? A man who conquered New York real estate?
We don't know what she was thinking, if she was thinking anything.
But I'm sure she wasn't expecting this response.
From Twitter: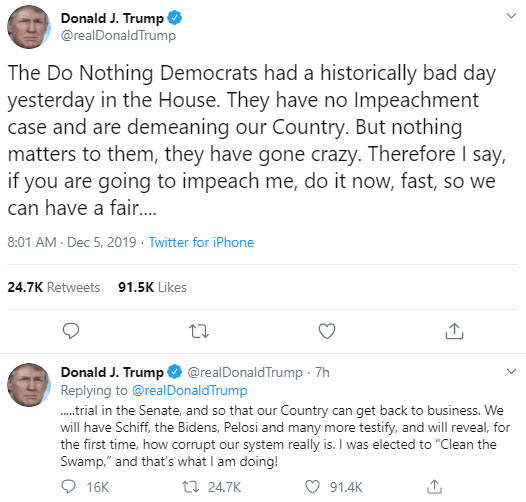 The Do Nothing Democrats had a historically bad day yesterday in the House. They have no Impeachment case and are demeaning our Country. But nothing matters to them, they have gone crazy. Therefore I say, if you are going to impeach me, do it now, fast, so we can have a fair trial in the Senate, and so that our Country can get back to business.
Do it quickly? Does Trump really want House Democrats to impeach him? Of course not. But he knows one thing very well: if they vote to impeach, the case goes to the Senate.
Republicans will finally have a say in this entire affair. They will get to hold a real trial and uncover the truth.
That means the Democrats will no longer be allowed to silence them and the president. They will be able to question every last person Schiff tried to protect.
And Trump will be able to expose every last dirty think the Democrats have been up to.
Knowing this, President Trump let Pelosi know how all this really will turn out.
From Twitter: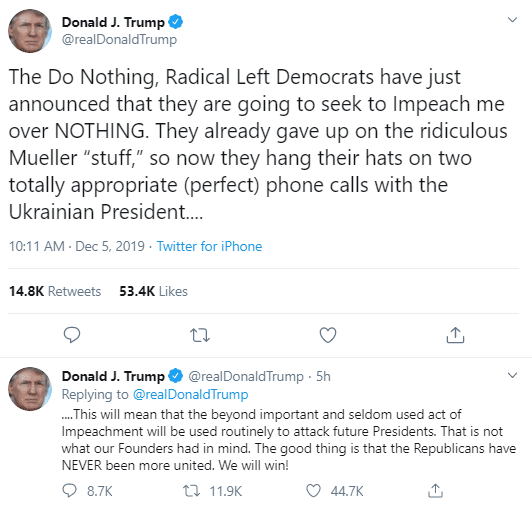 The Do Nothing, Radical Left Democrats have just announced that they are going to seek to Impeach me over NOTHING… This will mean that the beyond important and seldom used act of Impeachment will be used routinely to attack future Presidents. That is not what our Founders had in mind. The good thing is that the Republicans have NEVER been more united. We will win!
Trump torched the Democrats by calling out the fact that they have done nothing over this year.
They are trying to use impeachment as a weapon to take out a lawfully elected president. If they get away with it, future Congresses will be unchecked in attempts to attack a rival president.
But what did he say that will really anger the do-nothing Democrats? The fact that Republicans have been more united.
Americans around the country are tired of the left's schemes. It has united the Republican Party like never before.
A trial in the Senate means Republicans will be able to reveal the truth to the world. The truth of what the Democrats have really been up to.
Trump will win—and Nancy will lose. Simple as that.
SHARE if you stand with President Trump, not Impeachment Pelosi!