After Pelosi Kicks Off Impeachment – Major Trump Poll Shows Americans Still Approve Of Him
Nancy thinks she has Donald on the ropes – well look out!
Democrats have spent over two years trying to tear down Trump's presidency, but things don't seem to be going their way.
They have been pushing impeachment since the day he won the election, and Pelosi finally broke down last night and join the Impeachment Brigade.
Now the Left is banking their entire reputation on Trump's phone call with Ukraine.
But how is their plan working? Certainly, Americans will be stunned that Democrats might president is getting impeached over this phone call, right?
Wrong.
From Rasmussen Reports: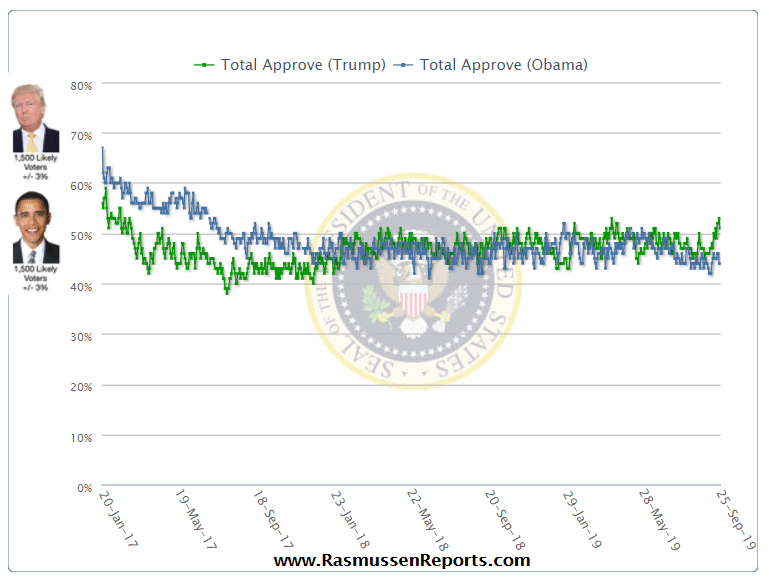 The Rasmussen Reports daily Presidential Tracking Poll for Wednesday shows that 51% of Likely U.S. Voters approve of President Trump's job performance.
Even with 24/7 news coverage of impeachment talk, Trump's approval continues to hold strong—he's staying over 50%.
In fact, it's still higher than Obama's at the same point in time. And nobody was talking about impeaching Barry!
What does this tell us? Well, for starters, Americans aren't buying the Left's story. For nearly THREE YEARS, they've claimed Trump is a bad guy.
First they said he was a Russian puppet, and now… he's fighting Democrat corruption?
But it looks like it's all backfiring on them.
You'd think they'd just give up now, while they still have a party! I guess they won't be happy until the Democratic Party is just a memory.
On top of all this, Trump released the transcript of the infamous call. It's one of the biggest nothing burgers I've ever seen.
Do Democrats really think they can impeach the President over a completely harmless phone call?
Americans clearly aren't being duped. But we're not happy—about the Left!
SHARE if you approve of President Trump, not Democrats!
Source: Rasmussen Reports