Moments After Pelosi Files Impeachment Articles – New Evidence Undercuts Nancy's Star Witness
Bad timing, Nancy – look what we have here!
The Democrats must think we're pretty stupid, huh?
After months of accusing Trump of trying to bribe Ukraine, they hit him with 2 articles of impeachment.
Neither mention bribery or quid-pro-quos. Instead, they are trying to get him on what appears to be non-criminal charges.
Now, they are planning on holding their vote next week, just before the Christmas break.
But why are they suddenly moving so fast? Something as serious as impeachment should be handled with the seriousness it deserves.
Could it be that they know more evidence is about to come out, shattering their narrative?
Too late!
Just moments after their announcement, news comes out that hurts their case.
From Twitter: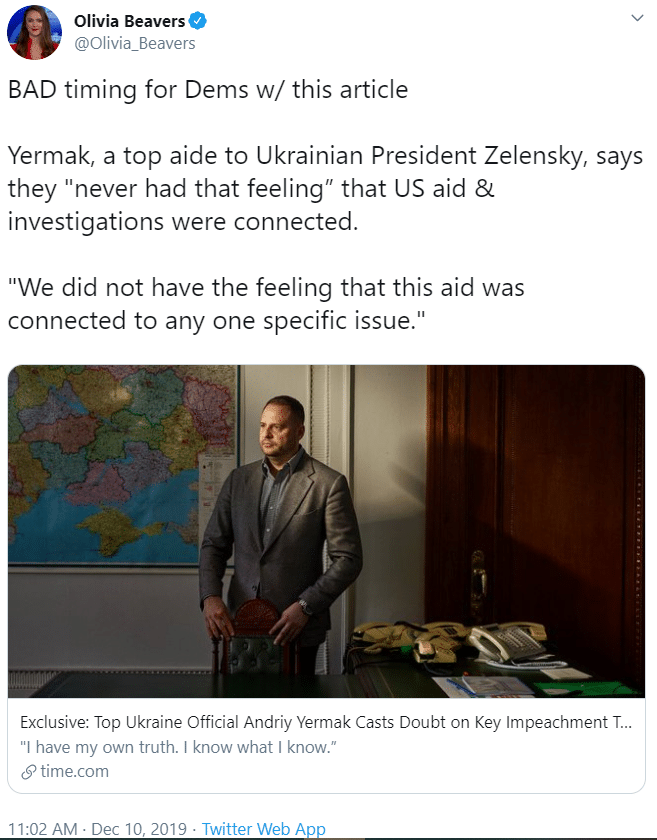 Bombshell. On the same day Democrats introduce their impeachment articles, a President Zelensky top aide undercuts the Democrats' star witness, Gordon Sondland. He says Ukraine wasn't told (and never believed) aid and political investigations were connected.

Wow.
We've heard this again and again. Now, yet another story comes out that shows Ukraine never was pressured by Trump to do anything.
In fact, the president of Ukraine said the left's "star" witness, Sondland never told him that aid was connected to investigations.
But, but… I thought this was all about Trump trying to pressure Ukraine to investigate his political rival!?
Yet every time we hear from Zelensky and Ukraine directly, they contradict that claim.
It seems pretty obvious that the Ukrainian president (and everyone else over there) never believed an investigation was connected to aid.
President Trump never threatened to withhold aid in order to get Ukraine to do what he wants.
Yet today, Democrats have sealed their reputations with TWO articles of impeachment, accusing Trump of wrongdoing.
(Why two? Do they think if the one doesn't pass, they get a second try? Is this a little league game?)
Everything we've heard only lends credit to the conclusion that Trump did not commit an impeachable crime.
They accuse him of abusing his power. But it's pretty clear that only one group is abusing power here. And there's a D at the end of each of their names.
SHARE if you think the Democrats' rushed impeachment is a complete sham!
Source: Twitter