Moments After Pelosi Starts Public Hearings – Trump Unloads Video, Sends Nancy Scrambling
The impeachment hearings are in full swing, but President Donald Trump isn't just sitting around watching.
No, the Trump campaign is firing back against one of the impeachment leaders:
House Speaker Nancy Pelosi.
Just before the public hearings kicked off, Trump's team gave America a little reminder.
From Townhall:
The Trump campaign released an ad informing Democrats that they're only helping his re-election.

The video reminds us of all the times House Speaker Nancy Pelosi pledged that any impeachment process would have to be bipartisan, before she got partisan.
Take that, Nancy!
Listen carefully to what she says in these clips — she's very clear about her stance on impeachment.
She calls it "divisive" and if an inquiry does happen, it "it has to be a bipartisan initiative."
We agree with both those statements, as does most of America.
But suddenly, we come to this fall and Pelosi's tune has changed entirely. Now she's all for impeachment and she's as partisan as they come!
Then Trump himself weighed in on Twitter: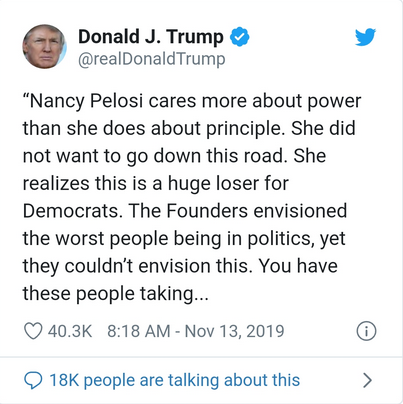 Nancy Pelosi cares more about power than she does about principle.

She did not want to go down this road. She realizes this is a huge loser for Democrats.

The Founders envisioned the worst people being in politics, yet they couldn't envision this. You have these people talking…
Bingo!
This really is a major problem for Democrats; numerous politicians have already said it was a bad move for the DNC.
But Pelosi announced the inquiry and immediately became a giant hypocrite in the eyes of millions.
She's caught on camera saying that impeachment causes huge problems, and that it should also be bipartisan.
And yet, ever since, she's been nothing but partisan, and hasn't cared at all about the divisive nature of this impeachment process!
The video and Trump's comments are spot-on, don't you think?
SHARE to spread the word if you agree that Nancy Pelosi is a hypocrite!
Source: Townhall