Pelosi Gets A Fiery Challenger For 2020 – Her Long Career Could Be Over
Queen Nancy thought she was safe – but one woman could bring her career to an end.
She thought her liberal district of San Francisco would protect her. Unfortunately for her, establishment Democrats are getting a run for their money in 2020.
Because they've squandered their time in office and half-heartedly pressed for Trump's impeachment, they are rapidly losing ground within their own districts.
Even her own party is rebelling against her, with the Squad basically taking over the face and leadership of the party.
Now, it lookslike she's got her own homegrown challenger. A popular conservative host and commentator is taking on the Queen Bee herself.
From Deanna for Congress: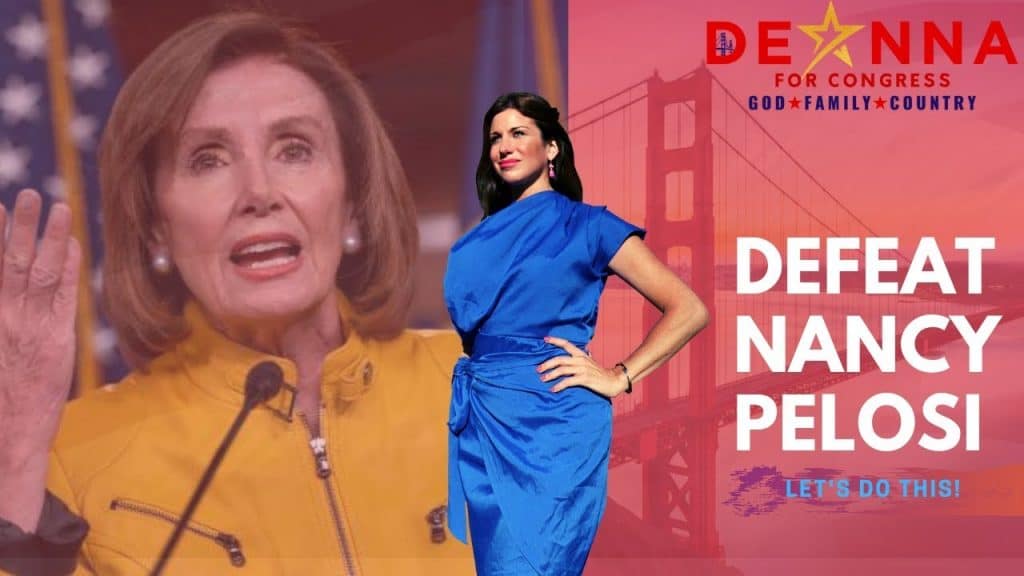 Author, commentator and YouTube host Deanna Lorraine announced her challenge today to U.S. House Speaker Nancy Pelosi in California's 12th Congressional District.

"Under Nancy Pelosi's leadership, the Democrat Party has hit rock bottom," Lorraine opened. "Democrats today are not the Democrats of my parents' generation. Their radical turn has left the party of John F. Kennedy far behind, and instead has turned to all out communism."
Deanna Lorraine is a San Francisco resident, author, commentator, and conservative figure.
She is boldly challenging Pelosi in her own hometown, inspiring locals to take back their district.
Lorraine is also the author of Making Love Great Again, a book about restoring marriage and family in America.
That's something we sorely need in this country right now.
San Francisco may seem like a far-left den, but I'm willing to bet there are more than a few voters sick and tired of Pelosi's lack of leadership.
They can just look around at their city—DeAnna is actually promising to turn around San Francisco's homeless epidemic and put people back to work. Pelosi's only made it worse.
And even better?
Lorraine unapologetically supports the border wall. She's pro-Second Amendment.
And she's got an awesome video that's sure to catch fire if enough patriots share her challenge to Nancy:
It's not that hard to imagine that there are many San Francisco voters eager for a change. Lorraine just might be what they are looking for.
SHARE if you want to see Nancy Pelosi voted OUT in 2020!
Source: Deanna for Congress