After Outspoken Conservative Loses Her Pageant Crown, She Lands A Spot On Trump's Team
Kathy Zhu got a bum rap.
That's how many American citizens reacted when they heard the former Miss Michigan pageant winner was stripped of her title.
She simply exercised her right to free speech, and the Miss America head honchos took her tiara away.
Well, she didn't back down. And now she's being rewarded for her continued bravery and patriotism…
…with a spot on the Women for Trump team!
It's a perfect fit for Zhu, don't you think?
From Western Journal:
"A pageant winner stripped of her title after old posts triggered liberals has scored a new gig with Team Trump.

Kathy Zhu, a former Miss Michigan pageant winner, is now the newest member of the Women For Trump Coalition Advisory Board."
Yes, Kathy Zhu is now officially a member of Team Trump!
The group announced the former pageant victor's inclusion on the team, and they clearly are overjoyed to get someone like Zhu: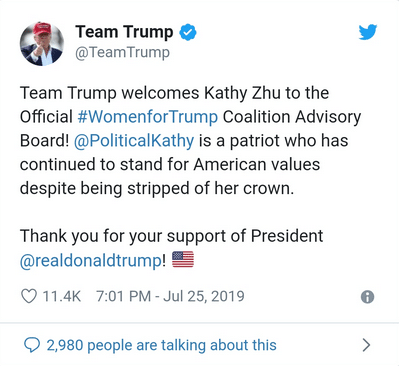 "Team Trump welcomes Kathy Zhu to the Official #WomenForTrump Coalition Advisory Board!

@PoliticalKathy is a patriot who has continued to stand for American values despite being stripped of her crown."
This really backfired on liberals, didn't it?
They wanted to put Zhu in her place; they accused her of being offensive and racist, and as a result, she lost her Miss Michigan title.
So they thought they won. They thought they'd successfully punished and silenced this proud, outspoken patriot.
Nope.
Instead, the snowflakes only managed to give Kathy Zhu an even bigger platform, and now she's going to have an even more significant impact!
On top of which, Zhu is still steaming from being wrongfully accused and mistreated.
And you can bet she's going to use that indignation to fuel her efforts with the Women for Trump team.
She's already rarin' to go!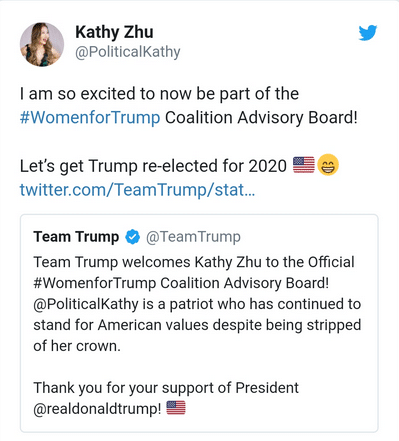 "I'm so excited to now be part of the #WomenForTrump Coalition Advisory Board!

Let's get Trump re-elected for 2020…"
See what you did, liberals?
You got another true patriot all amped up and ready to support her President as he makes another run. You didn't silence anyone!
Yup, this is great news for all patriots … and another blow to hostile leftists who want to tear down the freedoms we all should enjoy!
Don't you agree that Zhu getting stripped of her title was a blessing in disguise? Let us know in the comments!
Source: Western Journal