After Omar Goes After Trump – Donald Predicts It Will Backfire In Her Own Backyard
Omar thought she won this round – but Trump is 10 steps ahead of her!
Don't ever doubt Trump. Just don't.
I'm sure there were more than a few squeamish conservatives who doubted Trump when he called out Ilhan Omar for her attacks on the President.
President Trump criticized the far-left Democrat, questioning her loyalty to the United States and many of her radical positions.
Now, Trump is making a big prediction for 2020. He just might clinch another state, all thanks to Omar.
From Breitbart:
President Donald Trump said Tuesday he would win Minnesota in 2020, arguing Rep. Ilhan Omar's radical views would only help him.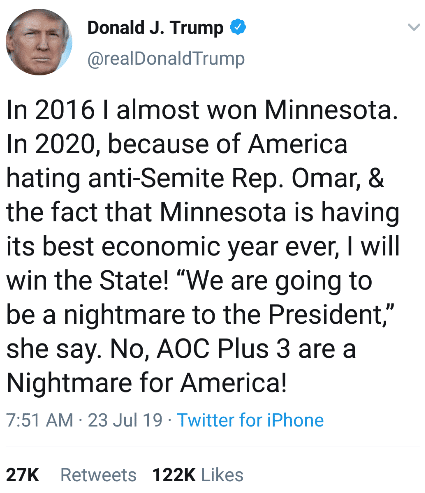 Sounds like a winner to me!
President Trump nearly won Minnesota in 2016. But thanks to Omar's record, he predicts he'll win it easily next year.
Trump pulls no punches when he accuses Omar of being an anti-Semite. He also reminds the country that Minnesota—like many other states—is enjoying its best economic year ever.
America's economy is roaring back to life. Blue-collar states and Midwestern states once slammed by bad trade deals and policy are now doing much better.
President Trump slashed regulations, lowered taxes, and is pushing an America First policy. That has resulted in more jobs and higher wages for millions.
Minnesota has a lot to be thankful for. And I'm guessing millions in the state are pretty upset and embarrassed right now at their wonderful congresswoman.
You elected Omar, Minnesota. And she's your congresswoman.
But you get to fix it in 2020. And re-elect Trump for 4 more years.
SHARE if you think Trump can win Minnesota in 2020!
Source: Breitbart