After Ilhan Omar Denies Marital Accusations – She Just Showed Off Her New "Just Got Married" Pic
Maybe Rep. Ilhan Omar (D-MN) thinks the American public has short memories.
Or maybe she thinks we can't connect the dots…
Do you remember when the rumors broke last year about her alleged affair? We sure do.
At the time, it was reported that Omar was cheating on her current husband with political consultant Tim Mynett.
However, Omar denied the allegations. When WCCO asked her if point blank, Omar bluntly replied, "No, I am not."
But wait — she just got married again!
And guess who her new husband is? That's right, it's Tim Mynett.
The leftist politician confirmed the marriage in a recent Instagram pic: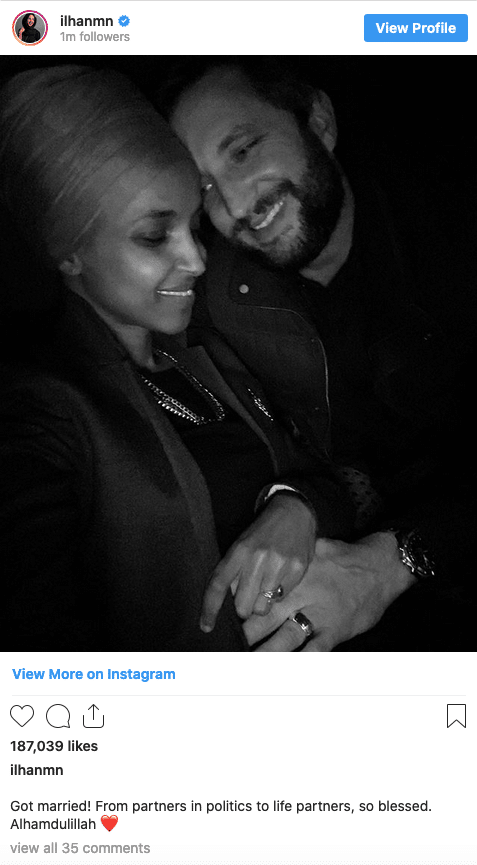 Got married! From partners in politics to life partners, so blessed. Alhamdulillah
Yup, the man she swore she wasn't having an affair with is now her husband.
The Daily Mail reported that the two got married at an undisclosed location. And now, once again, the rumor mill is churning hard…
Remember, just a few months after the reports began, Omar filed for divorce from her second husband, Ahmed Abdisalan Hirsi.
And now, not long after that, she's married. And to the guy she said she wasn't in a relationship with.
As a result, I've got a message for her:
Americans have pretty good memories, Omar. We've hardly forgotten the allegations.
Secondly, if you end up married to the guy you supposedly weren't having an affair with, we suspect you were lying earlier. That's just logical, right?
It's incidents like these that make it difficult for me to trust Democrats.
And don't forget, this is Omar's third husband, and she's hardly old.
Therefore, I think there's a "moral fiber" question here, too, isn't there?
SHARE if you think Omar LIED about not having an affair last year!
Source: The Daily Wire