Obama Refuses To Endorse Biden Yet – But Barry's Top 3 Leaders Are Already On Joe's Bandwagon
Believe it or not, Barack Obama hasn't openly endorsed Joe Biden for President.
You'd think it would be a foregone conclusion. After all, Biden was Obama's VP and both are Democrats, of course.
But Obama appears a little hesitant to publicly support Biden. And that hesitance is raising eyebrows in Washington.
However, several of Obama's colleagues already jumped on the Biden bandwagon.
This includes some of the biggest names in Washington… like former FBI director James Comey.
Yes, this man who has lost all credibility with the American public is pulling for Biden: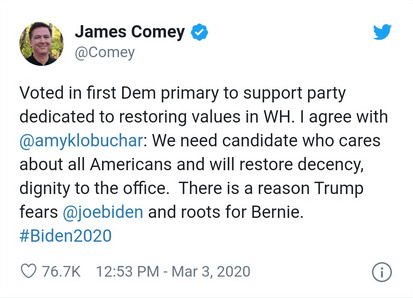 "Voted in first Dem primary to support party dedicated to restoring values in WH. I agree with @amyklobuchar: We need candidate who cares about all Americans and will restore decency, dignity to the office. There is a reason Trump fears @joebiden and roots for Bernie. #Biden2020."
Wait, what? Trump fears Joe Biden? Er… I'm fairly certain that isn't even remotely true.
And at this point, if Comey endorses anything, I'm likely to run the other direction. Heck, aren't you?
And he's not alone, either.
Obama's national security adviser, Susan Rice, who covered for Hillary and Barack on Benghazi, is endorsing Joe: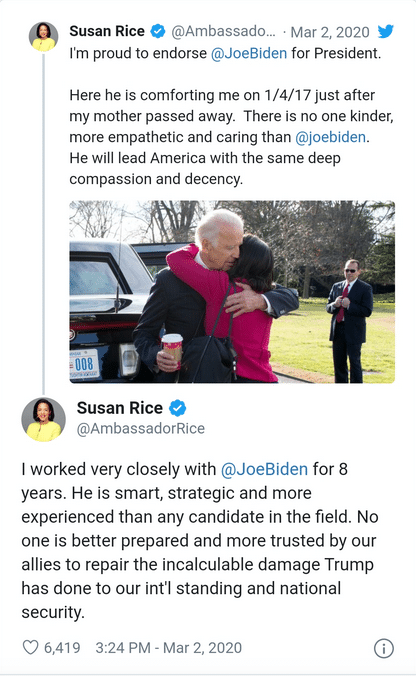 "I'm proud to endorse Joe Biden for President. …No one is better prepared and more trusted by our allies to repair the incalculable damage Trump has done…"
Really? I wish these Democrats would actually cite this so-called "damage" with statistics or facts. Anything.
Next up?
Obama's CIA director, John Brennan: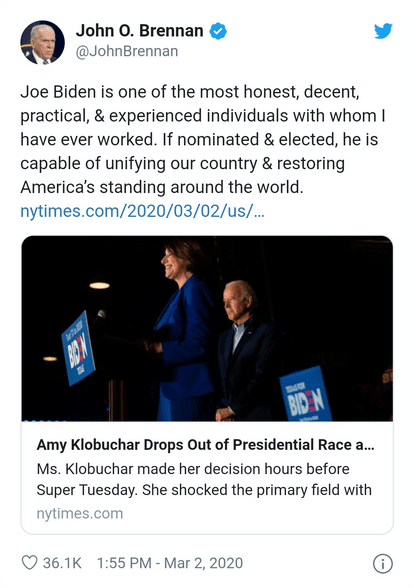 "Joe Biden is one of the most honest, decent, practical, & experienced individuals with whom I have ever worked. If nominated & elected, he is capable of unifying our country & restoring America's standing around the world."
Whatever you say, Brennan. I think a lot of Americans have lost respect for you in recent years.
At any rate, it looks like plenty of Obama followers are supporting Biden. Doesn't this imply that Obama is going that direction, too?
If all his buddies are pro-Biden, I'd assume Barack is pro-Biden as well. Maybe he's withholding his big endorsement unless Joe gets in another bad spot against Bernie.
Either way, though, I'm not likely to support anything Obama supports. That might be true for millions of other Americans, too.
But to me, it doesn't matter who backs Biden. Because neither Biden nor Sanders can beat Trump, right?
SHARE if you think Biden has ZERO shot against The Donald!
Source: Breitbart