NYT Claims Trump Wants On Mt. Rushmore – Then Donald Fires Back, Trolls Them With A Photo
What's Happening:
As we get closer to the election, it appears the media is doing its best to derail the Trump train.
The New York Times—which has a history of overly negative Trump coverage—published a report claiming Donald Trump wanted his face on Mount Rushmore. They went so far as to claim that "a White House aide asked South Dakota Gov. Kristi Noem's office about how a president could get added to the famed mountain sculpture."
Trump recently traveled to the landmark for a July 4th celebration and there has been buzz about the monument ever since.
When the NYT went further—saying it was Trump's idea. The president fired back and sent a picture too:
President Trump claimed that a recent New York Times report that he had inquired about having his face added to Mount Rushmore was "Fake News," although he was not exactly opposed to the idea…

"This is Fake News by the failing @nytimes & bad ratings @CNN," Trump tweeted Sunday evening. "Never suggested it although, based on all of the many things accomplished during the first 3 1/2 years, perhaps more than any other Presidency, sounds like a good idea to me!"
What a perfect response by President Trump and calling attention the question they really should be asking themselves. Why SHOULDN'T Trump be added to Mount Rushmore when you look at the scoreboard. He's constantly working overtime for the American people.
In typical Trump nature, he took things a step further and tweeted an edited picture of him self pointing at Mount Rushmore smiling, maybe just about where his head might go "when" he get's added.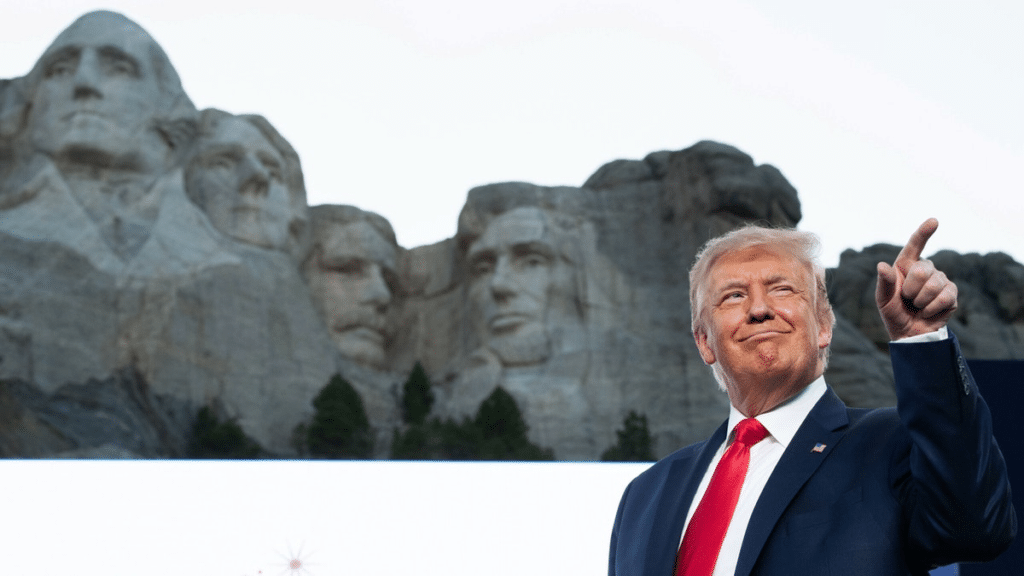 I love this photo! And I know it probably triggered the New York Times more than they would care to admit!
It's hard to ignore the angle of the Times' report. Pushing their tired narrative against Trump, they wanted to whip up their readers into a frenzy.
The paper wanted their audience to believe that Trump demanded his face be put alongside historic figures like Teddy Roosevelt and Abraham Lincoln.
But it doesn't seem that the paper had any sources to back their claim. The liberal-leaning media has frequently made claims about the president, sourcing nobody or "anonymous" sources.
President Trump hit back by calling the report "fake news." But then, in his trademark style, he said that adding his face sounded "like a good idea."
The president referenced his many accomplishments, suggesting he's done "more than any other Presidency."
Although his critics scoff at such a claim, Trump's achievements during his first term are plentiful.
Trump lowered taxes, slashed thousands of government regulations, landed new trade deals, eliminated the Iran Nuclear deal, eliminated NAFTA and replaced it with USMCA, defeated ISIS, and much more.
Before the temporary freeze due to the COVID panic, the United States had record unemployment (especially among women, black Americans, and other minorities). In fact, since April, the United States has been adding millions of jobs back to the workforce a month—smashing expectations.
The stock market has already rebounded since the March drop.
That's not to mention how Trump has brought back manufacturing to the United States. Even during the pandemic, he's taken great strides to revolutionize our health care industry (with telemedicine and many reforms).
He has also worked to bring drug manufacturing back to the U.S. from China, including a massive deal with Kodak Eastman.
Maybe putting his face on the mountain isn't a bad idea?
Key Takeaways:
The New York Times claimed Trump wanted to put his face on Mount Rushmore.
Trump called it fake news but teased it by saying he's done more than any other president.
The Trump administration's accomplishments are numerous and plentiful.
Source: Fox News, Twitter, Twitter